Posted 3:35pm Monday 20th September 2021 by Erin Gourley
OUSA has submitted in strong support of gender self-identification on birth certificates. The proposed Bill, currently at its final stage before the House of Representatives, would make it easier for people to change the sex or gender on their birth certificates without going to court. The Read more...
Posted 3:09pm Sunday 1st August 2021 by Erin Gourley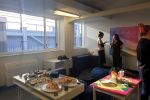 The queer space officially opened on Friday 23 June, after a blessing. This was followed by a speech from OUSA President Michaela Waite-Harvey. The space is located on the second floor of the Union building, opposite the Terrace Lounge. It has a microwave, a mini-fridge covered with The Office Read more...
Posted 11:12pm Sunday 23rd May 2021 by Jay Bailey
As a transgender person who was assigned 'female' at birth (AFAB), menstruation is a funky topic for me. My body's feminine properties constantly remind me that I exist in a meat shell which doesn't quite fit with my perception of myself. But my body is not as clearly binary Read more...
Posted 12:23pm Sunday 17th May 2015 by Lydia Adams
With recent headlines hailing Bruce Jenner's interview as an "Ellen" moment for the trans* community, we take this opportunity to educate and explore the world of sexuality and gender. A few weeks ago Bruce Jenner, a former Olympian and present member of the Kardashian Read more...
Posted 5:30pm Sunday 23rd March 2014 by Sir Lloyd Queerington
Hello again, sweetpeas. Today we are continuing our 101 of queer identities by looking at sex. Not the sex that you do but the sex that you have been assigned. Confused? Well, let us begin with some baby-making. People make babies. They make them in a whole lot of different ways, but Read more...
Showing results 1 - 5 of 5
TAGGED ITEMS
Showing items with the tag:
sexuality