Posted 4:54pm Sunday 30th May 2021 by Fox Meyer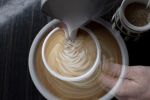 The cheapest coffee in town will now cost more than a coin, as Veggie Boys raises its price by a dollar. A regular is now $3, and a large comes in at $4. The price increase comes during a change of management. Supreet, the new manager at Veggie Boys, told Radio One that the previous owners Read more...
Posted 11:20pm Sunday 23rd May 2021 by Hannah Johns
Clarification: Fizzliss have got a new recipe coming out soon but we don't think the following story should deter you from drinking their (delicious) original recipe in moderation. Fizzliss have apologised after their apple and cranberry flavoured RTD caused multiple incidences of loose Read more...
Posted 4:05pm Sunday 9th May 2021 by Annabelle Vaughan
Jess Clarke is a history and performing arts student who produces all kinds of weird and wonderful earrings. Finding success at the Radio One Market days, she has managed to turn her summer holiday hobby into one of Otago's newest trends. Jess's work features all kinds of Read more...
Posted 1:41pm Monday 26th April 2021 by Denzel Chung
Recent tax changes for investment properties have landlords and OUSA agreeing on one thing: Rent increases are "inevitable". With landlords arguing tax changes have forced their hand, OUSA is now exploring ways they can respond at both a local and national level. David Seymour, ACT Read more...
Posted 9:43pm Sunday 18th April 2021 by Quintin Jane
The third floor of the Uni's Science Library has been stripped of books and is set to become office spaces for the Sciences Divisional Board i.e. the people who run the Science programmes at Otago. According to Campus Development Division Director Tanya Syddal, the area is to be fit Read more...
Showing results 1 - 5 of 5
TAGGED ITEMS
Showing items with the tag:
radio one