Posted 11:43pm Sunday 23rd May 2021 by Fox Meyer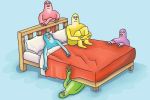 Subwardens now have official representation on a committee and can approach OUSA more easily with their issues. Subwarden means RA. RA means Residential Assistant. Residential Assistant means friendly, not friend. OUSA President Michaela Waite-Harvey said that subwardens are "a good liaison Read more...
Posted 10:41pm Saturday 10th April 2021 by Annabelle Vaughan
Lockdown exposed problems with residential colleges. Residential assistants (RAs, this year known as Sub-wardens) had heavy expectations placed on them. Whether it was managing first years' mental health or fighting for fair pay, lockdown placed a spotlight on conditions of work in residential Read more...
Posted 5:44pm Tuesday 2nd March 2021 by Alex Leckie-Zaharic
In an effort to house two hundred more freshers than last year, the University has adopted an American college-comedy staple and added 11 twin rooms across multiple halls, including UniCol, Arana, and Aquinas. In response to the influx of students, Stephen Willis, the Read more...
Showing results 1 - 3 of 3
TAGGED ITEMS
Showing items with the tag:
ra