Posted 11:09am Tuesday 13th July 2021 by Alex Leckie-Zaharic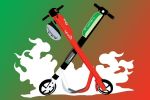 Citing "careful consideration" and the "weighing up [of] many factors", Lime has decided to retreat from Dunedin. But anyone with half a brain knows that the real reason because we threw so many of their scooters in the Leith. Lime is a self-proclaimed "global Read more...
Posted 11:06pm Tuesday 2nd March 2021 by Alex Leckie-Zaharic
Gone are the simple days when Lime scooters ruled the streets. Scootering in Dunedin is no longer a one-horse race, with Neuron entering the fray in early January and forcing the humble Lime to upgrade, Incredibles-style, to compete. Critic's self-proclaimed scooter expert took it upon himself Read more...
Posted 8:28pm Tuesday 2nd March 2021 by Denzel Chung
The battle of Dunedin's e-scooters is well underway, with Singaporean company Neuron Mobility, Australia and NZ's self-titled "leading rental e-scooter company," heading into battle against Lime on Dunedin's streets. As well as their striking orange Read more...
Showing results 1 - 3 of 3
TAGGED ITEMS
Showing items with the tag:
lime