Posted 12:27am Sunday 7th March 2021 by Susana Jones
If you've ever been a student searching for a job, you've definitely heard of Student Job Search (SJS). If you're funded by a Daddy and have never been on that job search grind, SJS is a charity, underwritten by MSD and the student unions, that hooks students up with job Read more...
Posted 2:08pm Tuesday 2nd March 2021 by Annabelle Vaughan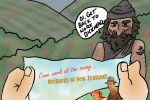 With the borders at a close thanks to the ripper of a year that was 2020, orchards across New Zealand cried out for help. Many Otago students answered the call to be a "Harvest Hero" and embarked on their agricultural adventure. For some, it didn't turn out to be the experience Read more...
Posted 4:11pm Tuesday 2nd March 2021 by Erin Gourley
Orchards called on uni students to make money picking and packing. Students were not prepared for the exploitative working environment they walked into. When students set off for the orchards of Central Otago and beyond, it had been a rough year already. A lot of businesses limited the Read more...
Posted 3:03pm Sunday 26th May 2013 by Staff Reporter
Callum Fredric has stepped down as editor of Critic after reaching a settlement with OUSA last Friday. Fredric was suspended after a meeting with Darel Hall, the General Manager of OUSA and its subsidiary company Planet Media Dunedin Ltd (PMDL), on Friday 3 May. This suspension was confirmed in a Read more...
Showing results 1 - 4 of 4
TAGGED ITEMS
Showing items with the tag:
employment