Posted 1:03pm Monday 16th August 2021 by Sean Gourley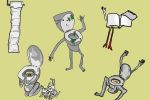 A serial shitter has struck Central Library multiple times. In at least two separate incidents, a large poo of considerable size and girth has been left on the toilet seat of the men's disabled bathrooms on both the first and second floors of Central Library. It is possible that many more such Read more...
Posted 3:53pm Sunday 25th July 2021 by Runze Liu
New Zealand Police and Fire and Emergency New Zealand (FENZ) are investigating a fire that occurred in a rubbish bin in the Information Services Building at around 8pm last Sunday 18 July. According to FENZ, the bin in the female bathrooms on the Cumberland St side of the Link caught fire, Read more...
Showing results 1 - 2 of 2
TAGGED ITEMS
Showing items with the tag:
central library