Posted 10:02am Saturday 10th September 2016
Emeritus Professor Alan Musgrave told our History of Science class that our most radical innovation as humans is not the scientific method, nor our ability to farm and grow crops, but language. Our greatest treasure as a species is our ability to communicate complex ideas with one another. Read more...
Posted 1:23pm Sunday 4th September 2016
You know that thing when you know someone, and you know they know you, and you've met them a few times but they pretend they don't know you when you see each other out in public? Strange Harvest wrote a total banger about that thing. "Monsters" is on Dunedin duo Strange Read more...
Posted 12:31pm Sunday 21st August 2016
Rating: A The film opens with a Martian landscape, with two moons, and a stifling red sky. A man and woman hold each other's leather-gloved hands, and give each other romantic stares through the viewing windows of their spacesuits. Then the man trips, falls, smashes his helmet, and starts Read more...
Posted 12:14pm Sunday 21st August 2016
Psychopaths look, smell, and sound like regular people, but they don't care about you any more than they care about the steak they ate for lunch. The good news is, not all psychopaths are serial killers. The bad news is, you've probably bumped into a psychopath today. Approximately one Read more...
Posted 5:55pm Monday 15th August 2016
I don't know anything about this band but this was the only song I listened to for about six months. The song is nine minutes and 37 seconds long, with a two minute introduction of tapping drums and bass, with a weird scratchy noise in the background. The bass is out of tune and there is the Read more...
Posted 5:24pm Monday 15th August 2016
Works by Felix Harris and Mate Pavic is an experience in the darker parts of humanity. The two artists were paired by gallery owner Inge Doesburg, who saw Harris' work and contacted Pavic in The Netherlands. Pavic's works look as though they have been done in a frenzy, with black ink Read more...
Posted 4:11pm Monday 15th August 2016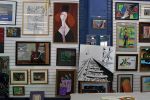 Artsenta is a place where people using mental health services can go to do art. The studio is based on an ethos that everybody should be able to access art materials and to use them in any way they want to. Artsenta kindly let Critic in for a chat with the staff. A group of people sat quietly Read more...
Posted 12:48pm Sunday 10th July 2016
Spartan, fit-for-purpose separates, uncanny fetishism, and bondage elements make for a bold first step into the industry for this emerging designer. Julia Palm graduated in the top of her class at Otago Polytechnic School of Fashion. Julia is heading to New Zealand Fashion Week in August to take Read more...
Posted 12:03pm Sunday 10th July 2016
One of New Zealand's finest songwriters is coming to Dunedin to play for us at the Maori Hill Coronation Hall on Friday. Lawrence Arabia has won two of New Zealand's most prestigious music awards: the Taite Music Prize and an APRA Silver Scroll. His fourth album "Absolute Read more...
Posted 11:34am Sunday 22nd May 2016
In the age of the internet, food can be scary. On one side, we have the cheeseburger lasagnes and all-bacon burgers of Epic Meal Time, on the other side we have the macrobiotic diet of Gwyneth Paltrow and the "chemical" fearmongering of the Food Babe. Don't you yearn for a simpler Read more...
Showing results 31 - 40 of 82