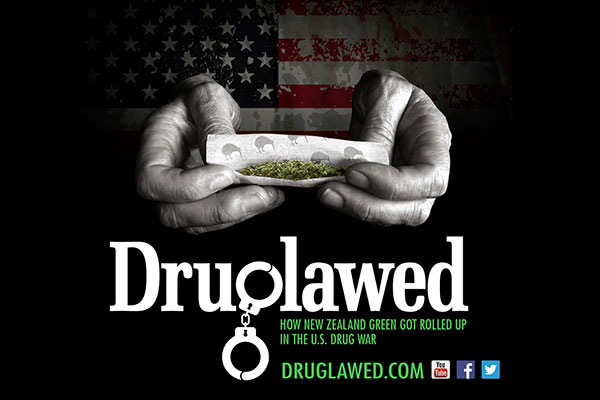 A film titled Druglawed had its world premiere at the University of Otago College Auditorium on Wednesday 14 April. The film, organised by Otago NORML, focuses on New Zealand's involvement in the US-led War on Drugs. The film was directed and produced by South African filmmaker, Arik Reiss.
The Aotearoa Legalise Cannabis Party said a "showdown was looming" over the documentary. This showdown is allegedly between Otago NORML, the organisers of the event, and Vice-Chancellor Harlene Hayne.
Abe Gray of the party claimed in a press release that Hayne "threatened to charge a university club hundreds of dollars if it 'promotes illegal activity' at the premiere of the documentary Druglawed."
When asked how this threat was made, Gray said that Hayne added a paragraph into the venue-hire agreement. The agreement states:
"Please note that the Vice-Chancellor has allowed this event to proceed on the following proviso: the documentary can be shown, but there can be no overt promotion of illegal behaviour. In the event that there is promotion of illegal behaviour, the waiver will be revoked and NORML will be liable for the full cost of the lecture theatre and may be subject to the Code of Student Conduct if applicable."
There was no mention of the costs in the email, contrary to Gray's accusation of fines of "hundreds of dollars". The group would instead be liable for the hire cost of the auditorium, which was originally waived.
Hayne was not able to be reached for comment, however a University spokesperson said "The proviso is included in the agreement because the promotion of illegal behaviour is against University policy."
"It is noted that NORML has expressed worry to the media that the movie promotes illegal behaviour. A productive course of action would be for the concerned members of NORML to discuss the (hire) agreement directly with the University."
Andrew Geddis, an Otago Professor of Law, is, in some respects, backing the group. Geddis emailed the club stating if the university came after them for making a civil disobedience argument, that he would be "willing to argue [their] side".
"If all you're doing is showing a documentary that questions the politics behind the drug war, and argues on a policy basis that New Zealand's drug laws are bad, you're not in trouble as that is not promoting illegal activity, that's promoting dialogue and is an issue of public importance."
Geddis did, however, want to distance himself from unconditional support of NORML's cause.
"If you're holding an event to say smoking marijuana is a lot of fun … then, yes, you're going to get in trouble and so you should be because the university is not a complete free-speech zone and you have no right to that sort of speech in the university."