Posted 2:33am Sunday 8th May 2022 by Keegan Wells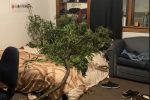 A little over a month ago we reported on a mysterious tree that showed up in a student's bed on a Saturday night. Our crack detective team turned up no leads until the case was blown wide open by an anonymous online confession. Seth reported finding a large tree branch in his bed after a Read more...
Posted 5:11pm Sunday 27th March 2022 by Keegan Wells
It's not often a Saturday night ends with you finding a stranger in your bed. It's even rarer when that stranger is a tree branch. Returning to his Cumberland St flat at 1:30am, Seth was getting ready for a good night's rest when he noticed a "weird, dark bushy figure on Read more...
Showing results 1 - 2 of 2
TAGGED ITEMS
Showing items with the tag:
tree