Posted 8:43am Sunday 10th October 2021 by Fox Meyer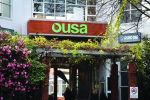 OUSA's Blues and Golds awards are "in recognition of the sporting, cultural and service achievements of current University of Otago students," said still-president Michaela Waite-Harvey. This year, Laurel Hubbard took home Best Sportswoman. Strangers on the internet, who Read more...
Posted 4:04pm Sunday 1st August 2021 by Elliot Weir
The following article contains the author's opinion. We rely on science to separate fact from fiction when it comes to contentious issues, but it can be politicised by groups to spread fear and misinformation. A 2019 publication by researchers from Otago has been used in exactly Read more...
Posted 4:33pm Sunday 30th May 2021 by Erin Gourley
Over the past few weeks, transphobic pamphlets have been appearing on noticeboards around campus. One student has reported the pamphlets to Critic Te Arohi twice. Both times, the pamphlets were put up on the Hunter Centre noticeboard. On May 12 they said "we noticed some rather gross Read more...
Showing results 1 - 3 of 3
TAGGED ITEMS
Showing items with the tag:
transphobia