Posted 4:49pm Sunday 30th May 2021 by Erin Gourley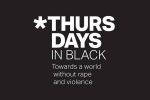 The Coordinator of Thursdays in Black Aotearoa, Jahla Tran-Lawrence, has resigned. Thursdays in Black Aotearoa will have a by-election on 17 June to find a new leader. Thursdays in Black is a student-run campaign that aims to prevent and respond to sexual harm in universities and polytechs in Read more...
Posted 8:42pm Tuesday 2nd March 2021 by Erin Gourley
A first-year student in 2020 was permanently excluded from the University of Otago after multiple sexual assaults against two students. This case, and three other allegations of sexual misconduct or assault, are detailed in the University's Discipline Reports for 2020. Otago University Read more...
Showing results 1 - 2 of 2
TAGGED ITEMS
Showing items with the tag:
thursdays in black