Posted 1:31pm Monday 16th August 2021 by Sunaina Born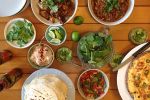 The arrival of the chain store Taco Bell to North Dunedin may give small businesses an opportunity to attract more customers, says Burger Plant owner Tom White. Global franchise Taco Bell was recently announced to be opening a store in Dunedin in the former site of Couplands in North Dunedin. The Read more...
Posted 3:35pm Sunday 1st August 2021 by Fox Meyer
Taco Bell is opening a store here. It will be New Zealand's second Taco Bell, following the one in Christchurch, which opened earlier this year. Critic drove to Christchurch over the weekend to scope it out, in anticipation of Dunedin's newest fast food joint. We specifically Read more...
Showing results 1 - 2 of 2
TAGGED ITEMS
Showing items with the tag:
taco bell