Posted 6:09pm Sunday 28th March 2021 by Sasha Freeman
Rate Having a compost bin! A nice way to dispose of food, a nice way to attract worms to your property, and a nice surprise for your landlord at the end of your lease. Turtles. Save them xx Menstrual cups. The company that owns U by Kotex uses palm oil, which is certainly not something I Read more...
Posted 2:26am Wednesday 3rd March 2021 by Sasha Freeman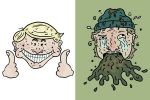 Rate · Starting the Macarena at parties. Bringing those year eight disco vibes except everyone's on gear and/or trying to pull. · Breathas going out during level two even though there's 650 Read more...
Showing results 1 - 2 of 2
TAGGED ITEMS
Showing items with the tag:
rate hate