Posted 5:46pm Friday 1st April 2022 by Denzel Chung
Last Sunday, St. Paul's Cathedral hosted a "queer-affirming reflective service" alongside Dunedin Pride, the Student Christian Movement and representatives from St. Hilda's Collegiate School. This is believed to be the first service of its kind in Dunedin. Richie, from the Read more...
Posted 1:13am Saturday 11th September 2021 by Erin Gourley
OUSA made a lengthy submission in favour of the Conversion Practices Prohibition Legislation Bill, which proposes to ban conversion practices (including conversion therapy) in Aotearoa. They were one of over 100,000 submissions on the Bill. The OUSA submission, written by Political Read more...
Posted 3:11pm Sunday 22nd August 2021 by Asia Martusia King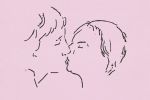 CW: Homophobia. Students were a "driving generation" in queer liberation, says Chris Brickell, Professor of Gender Studies and LGBT historian. Otago University was no exception. Here's an abridged history of our forebears and Read more...
Posted 3:09pm Sunday 1st August 2021 by Erin Gourley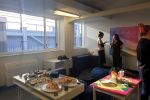 The queer space officially opened on Friday 23 June, after a blessing. This was followed by a speech from OUSA President Michaela Waite-Harvey. The space is located on the second floor of the Union building, opposite the Terrace Lounge. It has a microwave, a mini-fridge covered with The Office Read more...
Posted 11:24pm Saturday 13th March 2021 by Denzel Chung
A queer space, which has been in the works since 2018, will open on campus by the end of April. President Michaela Waite-Harvey said that "the space is located on the first floor of the University Union building near the Terrace Lounge. "We're putting the final touches on Read more...
Posted 6:09pm Friday 24th February 2012 by La Dida
So, the first queer column of 2012 is about marriage. No surprise there. The happy dyad of gay marriage and adoption reform seem to dominate queer media, community and social spaces at the moment. I hear it all the time: "gay marriage is the next step/last frontier", "it's the rights issue of our Read more...
Showing results 1 - 6 of 6
TAGGED ITEMS
Showing items with the tag:
queer