Posted 1:41pm Monday 15th August 2022 by Fox Meyer
Last weekend, Te Rōpū Māori and the Otago Pacific Island Students' Association joined forces to tautoko the tauira leaders of tomorrow. The kaupapa (event), the first student-led initiative of its kind at Otago, was attended by over 100 tauira (students) and various guest Read more...
Posted 2:58pm Sunday 10th October 2021 by Susana Jones
Bula brass! Fijian language week was from Sunday 3 October to Saturday 9 October, my personal favourite because Fiji is my homeland. I talked to some of my Fijian matavuvale (family) down here in Dunners to learn some more about my own culture, and to learn about their experiences being stunning Read more...
Posted 2:04am Monday 9th August 2021 by Susana Jones
Kia orāna all! Last week, from Sunday 1 August to Monday 7 August, was Cook Islands language week. To celebrate, we bring you this piece about one of the few places you might be able to travel to within the next year or so (thanks Miss Rona). To learn more about the Cook Islands, I Read more...
Posted 5:34pm Sunday 25th July 2021 by Susana Jones
"Kissy kissy, huggy huggy, but no fucky fucky." My strong, brown mum's words echo through the empty depths of my brain as she sends me off to Dunedin from Auckland at the prime age of 17. For all I can remember, this is the complete extent of my at-home education about sex, Read more...
Posted 3:58pm Tuesday 2nd March 2021 by Susana Jones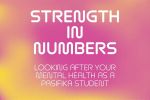 I remember walking in to Student Health as a fresher many moons ago, feeling crook as fuck in all ways possible, just needing some help. I looked around for a brown face or name. There were none in sight. My name, pronounced incorrectly, was called out by the Caucasian doctor, summoning me to their Read more...
Showing results 1 - 6 of 6
TAGGED ITEMS
Showing items with the tag:
pasifika