Posted 1:20am Saturday 11th September 2021 by Denzel Chung
The New Zealand Union of Students Associations (NZUSA) put up a Facebook post praising the Government's support for students. After just 24 minutes, and comments from students, the post was extensively revised to take a more critical stance. I believe this is what they call a Read more...
Posted 1:30am Saturday 11th September 2021 by Erin Gourley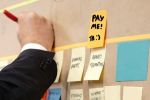 The University announced a $400 payment to help low-paid staff with the expense of working from home, but tutors and demonstrators were left out of the payment. This is despite the fact that they are some of the lowest-paid staff at the University. The payment was $400 made available to Read more...
Showing results 1 - 2 of 2
TAGGED ITEMS
Showing items with the tag:
hardship