Posted 6:12pm Sunday 15th August 2021 by Erin Gourley
Last week we were inundated with criticism for an article. No, it wasn't the investigation into neo-Nazis. It was the kebab review. As soon as it was posted on Facebook the comments started. The people were angry. They said, amongst other things: "WHERE IS Read more...
Posted 1:31pm Monday 16th August 2021 by Sunaina Born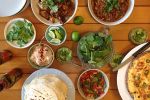 The arrival of the chain store Taco Bell to North Dunedin may give small businesses an opportunity to attract more customers, says Burger Plant owner Tom White. Global franchise Taco Bell was recently announced to be opening a store in Dunedin in the former site of Couplands in North Dunedin. The Read more...
Posted 2:36pm Monday 16th August 2021 by Alice Taylor
Nutella Bread and Butter Pudding (AKA Baked French Toast) This pudding is easy and cheap. If you don't have too much experience baking, it's a great place to start. It is exceptionally difficult to fuck up, because it is literally white bread smothered in Nutella and soaked in Read more...
Posted 1:42am Monday 9th August 2021 by Assorted Critic Staff
Late-night kebab missions are a hallmark of Dunedin culture. And while there are about a dozen places to order a kebab, only a handful may be open for you as you stumble home from town. Heck, not even all of these make the cut, but they were the ones our staff were most familiar with. We ordered all Read more...
Posted 2:00am Monday 9th August 2021 by Fox Meyer
Well, here we are. DSC won Critic's inaugural Bar Bracket. We started this bracket because we thought DSC's third-place ranking by our staff was too high, and now it has come out on top. Democracy doesn't always lead to the results you want. The bracket system and bar selection Read more...
Posted 2:33am Monday 9th August 2021 by Alice Taylor
Macaroni and Cheese Few things in life are as good as a bowl of carbohydrate drenched in creamy, cheese laden sauce. Some people like to add veggies to their mac and cheese, and look, I will not judge you if you do that. You are free to make your mac and cheese as you wish. In my opinion though, Read more...
Posted 3:35pm Sunday 1st August 2021 by Fox Meyer
Taco Bell is opening a store here. It will be New Zealand's second Taco Bell, following the one in Christchurch, which opened earlier this year. Critic drove to Christchurch over the weekend to scope it out, in anticipation of Dunedin's newest fast food joint. We specifically Read more...
Posted 5:19pm Sunday 1st August 2021 by Elliot Weir
Stuck in the same dull routine of pesto pasta, nachos, KFC and Domino's? Looking to take your flat cooking up a notch and go outside your comfort zone? This list is for you. Critic has compiled a few secret ingredients that you can use in everyday recipes to give them some extra flavour, all Read more...
Posted 5:30pm Sunday 1st August 2021 by Sean Gourley
Huzur Kebab is the newest kebab place in town. They opened on June 12. Owned and run by Mustafa Boztas, Huzur is located just north of fatty lane. It has provided much-needed, late-night Turkish food north of the Octagon, and brings something to the table that fatty lane has always been lacking: Read more...
Posted 6:33pm Sunday 1st August 2021 by Alice Taylor
I love granola, but I certainly do not love the price of the store bought stuff. The good granola costs about $2 per seed, and that simply is not okay. So instead, I buy my ingredients in bulk and make it at home. This is the basic recipe, but you can mix it up with whatever nuts and seeds you Read more...
Showing results 31 - 40 of 136
TAGGED ITEMS
Showing items with the tag:
food