Posted 12:16pm Sunday 8th October 2023
And all of a sudden, we're at the last recipe. It's been good team, thanks for looking at the pictures and never trying a recipe! It's not too late though, try this. You'll like it. CHICKEN 2 chicken breasts ⅓ block feta ¼ cup Read more...
Posted 11:01am Sunday 1st October 2023
Yeah, let's have breakfast for a change. Only thing you do need is a blender or a Nutribullet. If you don't, use the eggs to make scrambled eggs and eat the banana lol. Ingrediants: 3 eggs 1 banana ¼ cup cocoa powder Dash of Read more...
Posted 10:16pm Sunday 24th September 2023
While we're on the Mexican buzz, here's another mouth tingler to try out while avos are in season and the weather is warming up. Stay burrito-ful. This meal pairs nicely with Bohemian Wrap-sidy. Ingredients Soft shell tacos 700g chicken Read more...
Posted 12:26pm Monday 18th September 2023
Look sharp, idiots, this one's for real. There's a bit of admin involved for the initial operation but after that the leftovers process is easy as, and you only need to do one dish. Can be vegan without the cheese, and is vegetarian to begin Read more...
Posted 12:12pm Monday 11th September 2023
It's September. Fried rice it is. This easy dinner will have you satisfied and not feeling too heavy. There aren't many recipes left for this year so I hope you have given at least one a go. This is easy to follow, and even for the dustiest of cooks it can't go too wrong. Give it a Read more...
Posted 8:52pm Sunday 3rd September 2023
Everybody knows an apple crumble is the absolute queen of desserts. She's cheap, delicious and easy as piss to make. Here's a very simple recipe in case you couldn't figure it out on your own. Filling Ingredients 5 apples, peeled, de-cored and cut up into small Read more...
Posted 11:06pm Sunday 20th August 2023
Do you like meatballs? Do you like salads? Do you like halloumi, spiced chicken, fish or steak? Well add anything you like to this easy flatbread recipe. The best thing about this recipe is it only has 2 ingredients. Pairs well with any meat and veggies on top. Don't forget da sauce Read more...
Posted 3:57pm Sunday 13th August 2023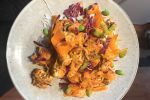 This recipe is dedicated to the lovely human who sent an email complaining about the use of prawns in my first ever recipe for Critic. I still think about that message sometimes. This was going to be a prawn recipe out of spite but I am choosing kindness. Chicken it is, and don't forget to be Read more...
Posted 2:13pm Monday 7th August 2023
You know what? This is far from the best curry I've had. It was warm and curry-like, but I probably wouldn't eat it again. Nice and simple, yes. Will warm you up and give you some veggies. If it was a movie it would be Avatar, beautiful visuals but forgettable story and ultimately Read more...
Posted 1:50pm Monday 31st July 2023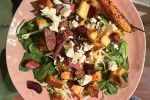 It's mid-winter. Buy wine instead of a box and use the excess money to buy feta and orange kumara. You deserve it. Get the veggies in and get the flu out. Life's short, eat good food and your body will thank you. Ingredients 600g of rump or blade steak Read more...
Showing results 1 - 10 of 26

Previous Results
Next Results

Charly Burnett @chargrillss
contributor