Posted 12:47am Saturday 23rd April 2022 by Zak Rudin
In our last issue, Critic Te Arohi reported that the Uni's carbon emissions dropped 40% in 2020 compared to 2019. We spoke with Craig Cliff, the Uni's Net Carbon Zero Programme Manager, to help us understand what is going on. The report showed that most of the 40% actually came from a Read more...
Posted 1:35am Saturday 9th April 2022 by Denzel Chung
A new report has found the Uni's carbon emissions dipped by 40% in 2020, to 30,661 tonnes of carbon dioxide equivalent (tCO2e). Reasons for the decrease include a lockdown, fewer jet-setting employees and a coal phaseout. The Uni's latest Greenhouse Gas Inventory was released in Read more...
Posted 6:01pm Friday 1st April 2022 by Fox Meyer
Will was soaking in a 250 litre drum filled with hot water. Hundreds of metres away, in a tent, someone was watching Derry Girls. In this moment, to Will, the audio coming from that TV show was the only sound in the entire world. Will was in Antarctica, at New Zealand's Scott Base. A Read more...
Posted 2:35pm Sunday 6th March 2022 by Zak Rudin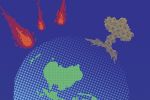 As if a global pandemic and the threat of world war weren't enough, the cheerful souls at the UN's Intergovernmental Panel on Climate Change have threatened climate-related mayhem will be coming for us as well. Again. The IPCC report, "Climate Change 2022: Impacts, Read more...
Posted 1:28pm Monday 16th August 2021 by Fox Meyer
Each year, bets are taken on when the first Magnolia bloom will appear between the Clocktower and Quad. This year it was August 10. The average blooming date has gotten earlier and earlier since records began in 1995. Gut instinct would attribute this early blooming to climate change. As seasons Read more...
Posted 10:09pm Sunday 18th April 2021 by Acasta Gneiss
At first glance, NZ Earthquake Community is a reputable Facebook page. It's filled with content from GeoNet and advice about earthquake safety. It's also only six clicks away from a crackpot's RV in New Mexico. Information on the page comes from two sources. If you follow Read more...
Posted 5:35pm Sunday 28th March 2021 by Annabelle Vaughan
Climate change is a scary subject. As concern has grown, so has the number of environmental organisations and people willing to take on the challenge of our generation. One of these organisations is Generation Zero, a non-partisan group which focuses on a solutions-based approach to climate Read more...
Posted 9:48am Friday 2nd February 2018 by Joel MacManus
A group of students in a South Dunedin flat took advantage of the flooding that filled their backyard yesterday by planting what they believe to be Dunedin's first rice paddy. Flatmates Siana Fitzjohn, Charlie Montague, and Harry Young said their new paddy was not only a new Read more...
Posted 2:10pm Sunday 9th July 2017 by David Clark
Sarah Thomson is a law student at Waikato University, and she's currently challenging the government's response to climate change. Her case is about the government's failure to adjust policy following the signing of last year's Paris accord. Under the Paris agreement, Read more...
Posted 11:03am Sunday 23rd April 2017 by Sofie Hagland BÝrseth
Climate experts are saying that climate change could trigger a future refugee crisis in the Pacific if New Zealand does not start a mass migration soon. Professor in Meteorology and Climatology at the University of Otago Dr Nicolas Cullen said that the communities in the Pacific are vulnerable to Read more...
Showing results 1 - 10 of 11

Previous Results
Next Results

TAGGED ITEMS
Showing items with the tag:
climate change