Posted 1:21pm Sunday 31st July 2022 by Zak Rudin
Burger Plant, the vegan burger joint on Fatty Lane, has just changed owners. Critic Te Arohi spoke with Tom, the previous owner and a culinary arts Polytech student, to get to the meat of the issue. What is now Burger Plant began with a little setup at the Farmers Market in 2019: "$600 Read more...
Posted 1:31pm Monday 16th August 2021 by Sunaina Born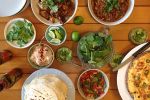 The arrival of the chain store Taco Bell to North Dunedin may give small businesses an opportunity to attract more customers, says Burger Plant owner Tom White. Global franchise Taco Bell was recently announced to be opening a store in Dunedin in the former site of Couplands in North Dunedin. The Read more...
Showing results 1 - 2 of 2
TAGGED ITEMS
Showing items with the tag:
burger plant