Posted 8:31pm Friday 27th March 2020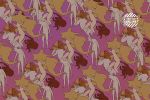 Step one Start off nice and slow. You don't want to spook anyone. Complain very loudly about the fact that you're not having sex while in isolation during flat dinner, or whenever you're all congregated together. Step two A few days later, suggest that you all watch porn Read more...
Posted 6:40pm Thursday 19th March 2020
On 15 March 2019, a white supremacist terrorist walked into a mosque during Friday prayer and gunned down 51 innocent people, injuring 49 more. It was the kind of news that sent a whole nation into shock. Most people remember exactly where they were when they heard the news, and will remember for Read more...
Posted 7:03pm Thursday 12th March 2020
Plans to install a pedestrian crossing on Albany Street beside the OUSA Clubs and Socs building will not go ahead until 2021. 78.6% of students felt that the crossing was necessary in the 2019 OUSA referendum. Following the referendum, then-OUSA President James Heath approached the DCC. They had Read more...
Posted 6:59pm Thursday 12th March 2020
*Content warning; disordered eating, If you are in a college, chances are that you are being fed. A lot. Three meals a day plus snacks. Not all college food is created equal, but one thing is for sure, you aren't going to starve. You, your scholarship or your parents are paying an average Read more...
Posted 1:45pm Saturday 7th March 2020
The number of STI cases in North Dunedin has risen over the last few weeks. This is normal at the beginning of the first semester, according to a spokesperson from Student Health. The rise in STIs is mostly caused by an increase in chlamydia and primary herpes cases. Critic suspects the Read more...
Posted 6:32pm Thursday 5th March 2020
Oh cock tower! oh cock tower! Your presence makes me horny, To see you chiming every day Makes my morning glory. Your dinging and a donging, Fills me with such longing With every peal, you make me squeal "I'm late to my class meeting!" But Read more...
Posted 5:56pm Thursday 5th March 2020
When I was younger, I was convinced that no one would ever find me attractive because I'm Asian. I don't fit into eurocentric beauty standards, and I also don't fit into Asian beauty standards. I'm dark skinned, little, brown-eyed and have short, wavy hair. I would've Read more...
Posted 11:07pm Thursday 20th February 2020
The iconic flat "the Greasy Beaver Lodge" has had their flat name physically and spiritually confiscated by their Property Manager, Jenny Adamson. The flat sign was removed mid-December last year without tenant consultation. What followed was a wild tale of miscommunication, Read more...
Showing results 1 - 8 of 8