Posted 2:07pm Sunday 6th August 2017
"Just play. Have fun. Enjoy the game." - Michael Jordan This question comes from a loyal reader: "To Sage Advice – we all know there are honourable and dishonourable acts in the world of sports. What are some of these, and how can we all become better human Read more...
Posted 1:26pm Sunday 30th July 2017
"It is a disgrace to grow old through sheer carelessness before seeing what manner of citizen you may become by developing your strength and beauty to their highest limit." - Socrates This question comes from a loyal reader: "Dear Sage Advice, gyms in Dunedin... Read more...
Posted 1:43pm Sunday 23rd July 2017
"Music is a higher revelation than all wisdom and philosophy." - Ludwig van Beethoven Music is one of the many languages of the human soul, but, as Herr Beethoven points out, its profundity is surely of the highest order. This week I have been in contact with a local Read more...
Posted 2:28pm Sunday 16th July 2017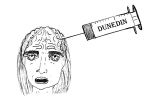 "We run Dunedin and every other city in this nation. You can't stop us, because you need us. Just let us do what we do, and nobody gets hurt." - Dave, spokesperson of 'The Workmen' Dunedin chapter Over the ages, the city of Dunedin has been home to many Read more...
Posted 1:54pm Sunday 9th July 2017
"The open road still softly calls, like a nearly forgotten song of childhood." – Carl Sagan This week I have been in contact with a wise genius, possessed of mind I can scarcely comprehend. I have reached a point in my life where I will treasure any good advice I Read more...
Posted 2:28pm Sunday 14th May 2017
Trying to find that special someone can be a minefield. With every little word and gesture being analysed, not knowing what to say, and your self-doubt nagging at you, it can be tough. But I'm here to share a little advice – one tip that anyone can use in almost any conversation which Read more...
Posted 1:42pm Sunday 30th April 2017
Words by Mat Clarkso, art by Saskia Rushton-Green Hello! It is your Granddad here! Just dropping you a line to let you know how we are getting on at home! First, a little family news. Grandma has gone to visit her sister in Taupo, as you know I cannot stand that woman ever since she pointed out Read more...
Posted 2:57pm Sunday 23rd April 2017
Juliet was in the market for a new bicycle. She had dreamed of riding a shiny red bike to work, one with a basket on the front and mud flaps to keep her dry. But all she saw in the sports stores were mountain bikes and racers built for men in minuscule pants. Bemused, she entered a second-hand shop Read more...
Posted 2:42pm Sunday 2nd April 2017
Zack became a Zombie during the first global outbreak when he was thirteen, and was now twenty-six. Those who were infected had since been rehabilitated, but their bodies never fully recovered. The Z-word was considered offensive from then on. One day Zack was eating alone in the park by the Read more...
Posted 12:56pm Sunday 26th March 2017
Angela had never been very good at making friends. Now that she had moved to a new town and knew barely anyone, she would have to dig deep and find the courage to be social. This gloomy town would be best enjoyed with at least one companion, she thought. One day in class, she got talking to a cute Read more...
Showing results 11 - 20 of 21