Posted 3:25pm Tuesday 15th May 2018
The Dunedin Youth Orchestra's "In Blue" concert coming up on Friday 18 May at 8.15pm at Hanover Hall offers a "really chill and super fun opportunity for students to get amongst some classic orchestra works" says Isaac Shatford, DYO's featured soloist this Read more...
Posted 1:07pm Sunday 10th September 2017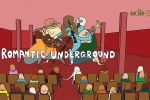 Do you find the concept of classical music enticing, but don't yet feel like you have enough grey hairs, or cough lollies in your pockets, to fit in with the usual classical concert crowd? Are you vaguely interested, but don't want to give up two hours getting a numb bum sitting in the Read more...
Posted 1:02pm Sunday 10th September 2017
Following the last DSO concert, which proved to be a very pleasant evening with my dad (even if he was stingy on the ice cream front), I managed to find a friend to accompany me to the most recent event. I am 85 percent sure she forgot she was supposed to be coming, as when I arrived at her flat to Read more...
Posted 1:03pm Sunday 6th August 2017
Sadly, it's always a struggle to find somebody to claim the second ticket of my double DSO pass. My friend pool of Western Art Music fans (the "WAM-fam") is on the light side, and is significantly diminished once you remove those who are members of the orchestra, so have no need Read more...
Posted 1:01pm Sunday 9th July 2017
Conductor: Marc Taddei Soloist: Ilya Gringolts For a concert in which nationalism and internationalism featured strongly, John Psathas's Luminous was a fitting work to begin with. Commissioned as a "Century Fanfare" by the Auckland Philharmonic Orchestra in 1998, Psathas says Read more...
Posted 12:54pm Sunday 21st May 2017
Kicking off the first of the 2017 Matinee series on the 29 April, Dunedin Symphony Orchestra's Basically Baroque concert was certainly a hit. So often it takes an orchestra a while to settle into Bach, but the Concerto for Violin and Oboe was precise and enthralling right from the get-go. Read more...
Posted 2:27pm Sunday 7th May 2017
Jonathan Lemalu, "fiercely proud to be born and educated in Dunedin" returned home after a busy international season of performances and recordings which took him across four continents, performing to a jam-packed Dunedin town hall on 12 April. The city certainly turned out to show their Read more...
Posted 12:56pm Sunday 23rd April 2017
The Dunedin City Choir alongside the Dunedin Symphony Orchestra gave a stunning performance of Gorecki's Totus Tuus and Karl Jenkins's The Armed Man, on Saturday 1st April, earning themselves a standing ovation. The opening work of the concert, Totus Tuus, provided challenges Read more...
Posted 2:17pm Sunday 19th March 2017
The freshly re-carpeted floors, brand new acoustic panelling, and music stands neatly aligned across the stage are certainly a dramatic change to the décor of the recently refurbished Monkey Bar, and new home of the Dunedin Symphony Orchestra. No longer will thumping bass and drunken laughter Read more...
Posted 12:32pm Saturday 8th October 2016
When an audience with a mean age of seventy energetically jump out of their seats in enthusiastic applause at the end of a work, you know it's been a good performance. Associate Professor of Music, Anthony Ritchie's composition Gallipoli to the Somme traces the journey of Dunedinite Read more...
Showing results 1 - 10 of 11

Previous Results
Next Results

Ihlara McIndoe
Contributor