Posted 2:39pm Sunday 15th September 2013
When Geoffrey Cox first attended Otago University, foreign periodicals took over a month to reach New Zealand, travelling by sea through the Panama Canal. Amateur radio broadcasting had only existed for five years and was seldom heard by everyday New Zealanders, who still often referred to Great Read more...
Posted 2:39pm Sunday 15th September 2013
The University of Otago has been declared the 155th best university in the world, tailing 61 places behind the University of Auckland. The Quacquarelli Symonds (QS) World University Rankings are published annually in the United Kingdom, and according to the official website, feature "over 800 Read more...
Posted 1:51pm Sunday 8th September 2013
In recent years, a bizarre new subculture has sprung up, based on fandom of the television series My Little Pony: Friendship Is Magic. Its predominantly male, adult membership call themselves bronies. But what do we really know about this group? Thomas Raethel investigated the subculture, and found Read more...
Posted 3:48pm Sunday 1st September 2013
A six-hour standoff took place in Mosgiel between police and a man who had locked himself in his garage with a running chainsaw. Critic is astounded at how long it took for the chainsaw to run out of fuel. After being called to a domestic incident on Murray St at 8pm on 22 August, police were Read more...
Posted 3:48pm Sunday 1st September 2013
The Performance-Based Research Fund is set to undergo changes in an effort to save time and reduce compliance costs for researchers. In a 26 August press release, Minister for Tertiary Education, Skills and Employment, Steven Joyce, confirmed that a review is underway. The Government plans to Read more...
Posted 4:47pm Sunday 18th August 2013
In response to the Otago Daily Times' call to "Stand Up Otago," Economic Development Minister Steven Joyce provided a rebuttal that was published by the newspaper on 10 August. In the rebuttal, entitled "Government Assisting Otago in Multiple Ways," Joyce cited a $15 million contribution to Read more...
Posted 2:29pm Sunday 11th August 2013
A former presenter of New Zealand's Funniest Home Videos has called for the formation of a political party devoted to the South of New Zealand. Dunedin businessman Ian Taylor formulated the idea in conjunction with the Otago Daily Times' "Stand Up, Otago" front-page editorial of 3 August. The Read more...
Posted 3:50pm Sunday 4th August 2013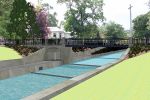 Otago University has agreed to commit $204,000 towards the development of a beautified Water of Leith, adjacent to the Clocktower. This sum is only a fraction of the $5.4 million that the Otago Regional Council expects to spend on the project over the summer. The funds have been sourced from Read more...
Posted 3:59pm Sunday 21st July 2013
Comedian Leigh Hart visited Leith Street Liquorland on 13 July to promote his new beer's launch in Dunedin. Wakachangi Lager is to be primarily marketed toward New Zealand students. Hart told Critic that he considers the lager to be an alternative to brands like Speight's. He admitted that the Read more...
Posted 8:23pm Sunday 14th July 2013
As quite possibly Dunedin's nonevent of 2013, Re-O-Week has been a constant disappointment for anyone with a brain stem. Only through a haze of excess alcohol consumption and synthetic cannabinoid smoke will people be led to believe they had a mean time. Too bad most of North Dunedin's dairies Read more...
Showing results 11 - 20 of 28
Thomas Raethel
News Writer