Posted 5:10pm Sunday 2nd May 2021
I have a confession to make. I'm a criminal. My $9 library fine (for a second-year psychology textbook, if you must know) is now over a year overdue and contributes to precisely 0.39% of the $2321.20 in library fines incurred by Uni and Polytech students. Campus Watch, you know where to find Read more...
Posted 10:01pm Sunday 18th April 2021
Last year, the DCC painted dots on George Street to create a pedestrian-friendly space. A year on, the dots are fading away. Hannah Johns spoke to Aaron Hawkins about the dots and discovered that there are no plans to repaint them. Hannah: I've become very fond of the dots, every time I Read more...
Posted 4:22pm Wednesday 24th March 2021
There are 14% more students doing postgraduate qualifications at Otago this year, in what has been termed "doing a panic masters". The largest increase is in humanities students, with a 30.5% increase in the number of students doing masters from last year, according to Read more...
Posted 2:10pm Sunday 21st March 2021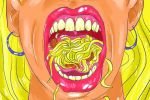 The University has raised prices yet again at their food outlets. Those on the study grind are notoriously poor, and after prices went up multiple times last year, this latest increase will be another gut punch to the food court faithful. According to Campus and Collegiate Life Services Read more...
Showing results 1 - 4 of 4
Hannah Johns
Radio One News Reporter