Powerlifting is a rapidly growing sport among women in Dunedin. Chelle Fitzgerald chats to five badass local competitors about the rise of female lifters.
---
Weightlifting is currently one of the fastest growing female sports. Stereotypes around what a female lifter looks like and does are being slowly lifted, and some of the most impressive lifting is done by some of the lighter classes - women who are lifting WAY over their body weight, displaying insane power-to-weight ratios.
More and more young women and students are becoming involved in both powerlifting and Olympic lifting, to get dem gainz and dem glutes. The top three women in Southland and Otago powerlifting are all Otago students that train at Unipol (Orla Harris, Megan Li-Smith and Ahoud Al Siyabi), and there are a number of talented female Dunedin lifters that are smashing goals left and right on these challenging stages.
CHANEL WILLIAMS
Psychology student Chanel nervously entered her first powerlifting competition in November 2016. Since then, the sport has gotten even more popular. "When they are having competitions at Fryatt Street [gym], sometimes you cannot move in there – so many people doing it."
Chanel has just returned from a whirlwind exhausting trip to the NZ nationals. "I left Dunedin at 6.30am, got to Whangarei at midday, then weighed in at 4.30pm, then we kept getting delayed; I'm tired – I haven't slept for 24 hours. Then we [finally] started lifting at 9pm; I'm sleeping between lifts on the platform, did my last one smack bang at midnight [a 170kg deadlift], then flew home at 7am."
That's not nearly as exhausting as dealing with gender stereotypes, though. "Boys shouldn't be intimidated by girls who lift! The amount of fucking idiots on Tinder who are scared of it. I had a date and the guy asked me my numbers and was like, 'oh, that's a bit intimidating and emasculating.' And I'm like, MATE. Don't be scared – it means we have an ass, what's wrong with that?"
One thing Chanel loves about lifting is the increase in self-confidence. "Mentally, it's a godsend. Some days you just want to come in and pick heavy shit up. It's cheap therapy."
Chanel is closer to the 72kg category than she is to 84kg, so has decided to "cut" (lose weight) for the next comp. "Bye-bye carbs. Hello salad. No thirsty Thursdays out in town, less mocha coffees."
She encourages anyone to start lifting. "It's nice to see more females lifting at Unipol now. You won't get massive, unless you really want to, in which case you have to work REALLY hard to get there and to maintain that."
LESLEY PROCTER
Lesley Procter is a freaking machine. You may know her as your sage sociology professor, but I've personally seen her complete 100 ring rows, 100 push-ups, 100 sit-ups and 100 squats in 19 minutes like it was nothing - and she's 62 years old!
Since 2015, she has competed in both powerlifting and Olympic lifting, with New Zealand and World Masters titles and records in Olympic lifting, and multiple NZ records, an Oceania title, a Commonwealth record, and various other South Island/Otago/New Zealand records for powerlifting. Lesley's NZ Powerlifting uniform hangs impressively in the reception of CrossFit Uncut and Uncut Weightlifting, the clubs owned by her son, and coach, Jeff Leckie (this is one epic gene pool).
"I've done probably better at powerlifting. Olympic lifting you have to be quite fast, and I'm not fast naturally – so I have to work at it," she informs me as she warms up for some lifting.
Lesley definitely needs big guns for all the pats she doles out on the daily, living on a lifestyle block. As well as Nyx, a gorgeous black shepherd who showed up for the interview, there are "ten sheep, two peking ducks, a cat, about 70 hens, and wild ducks. We do all our own fencing and moving stuff around".
ANGEL DURHAM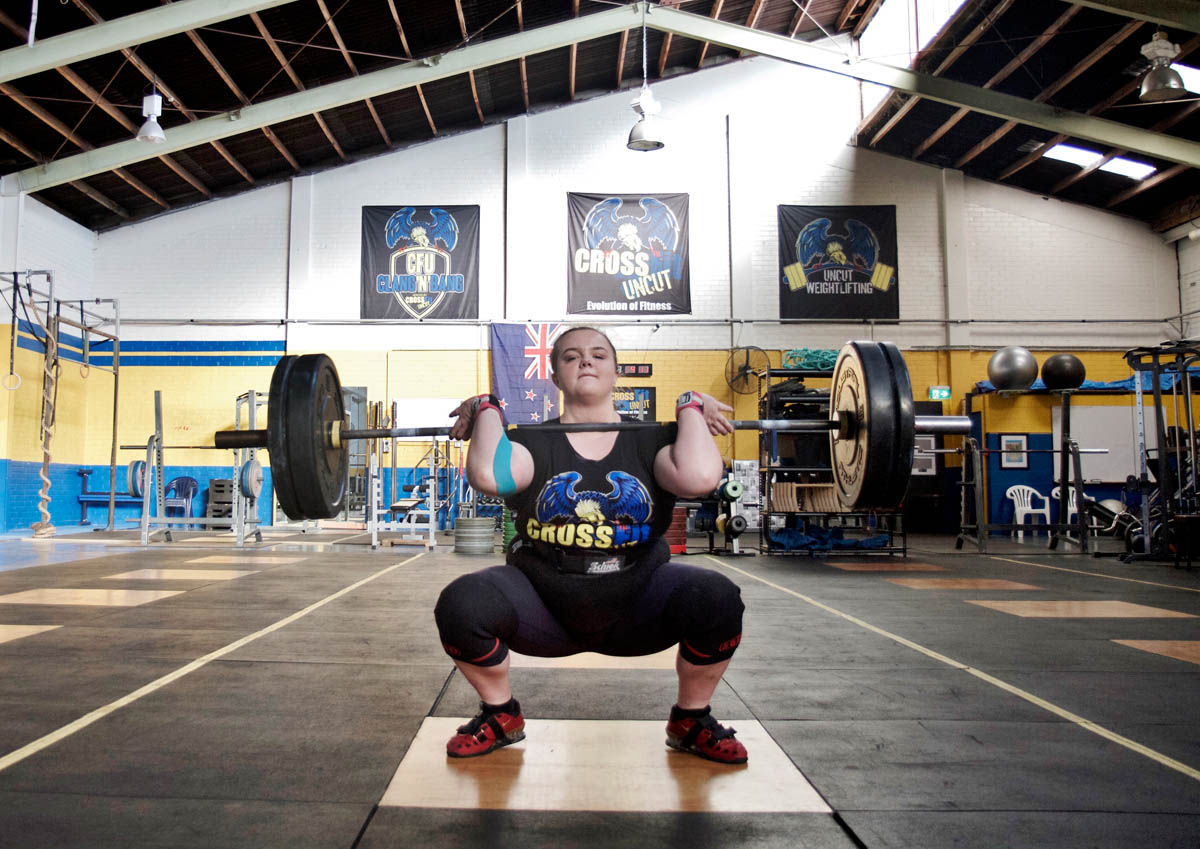 Already the current national junior champ and the South Island champ, Angel has just scored the 90kg+ bronze medal at Nationals on Sunday (September 23) – she's on fire.
If it wasn't for CrossFit, Angel might not have tried lifting at all – she started in 2016 and partly attributes the growing number of young women in lifting to gateway sports like CrossFit. CrossFit coach Jeff Leckie is also Angel's weightlifting coach at Uncut Weightlifting. "Jeff has coached me from the start, from my crappy power snatches to my full squat snatches. He's been awesome – I wouldn't have it any other way." Having a great coach is so important in Olympic lifting, as it is highly technical with high volume training and injury risk. "There're always going to be injuries because you're putting massive weights above your head. You've just gotta know when to pull back and let your body recover. It's hard – even a week off is torture for me. I train about five times a week leading up to a comp."
All that training is paving the way for Angel to push forward competitively. "I definitely want to work towards Commonwealth Games – it's a massive goal. Ultimately that's where everyone wants to be, they want to be at the top of the sport."
AMANDA GOULD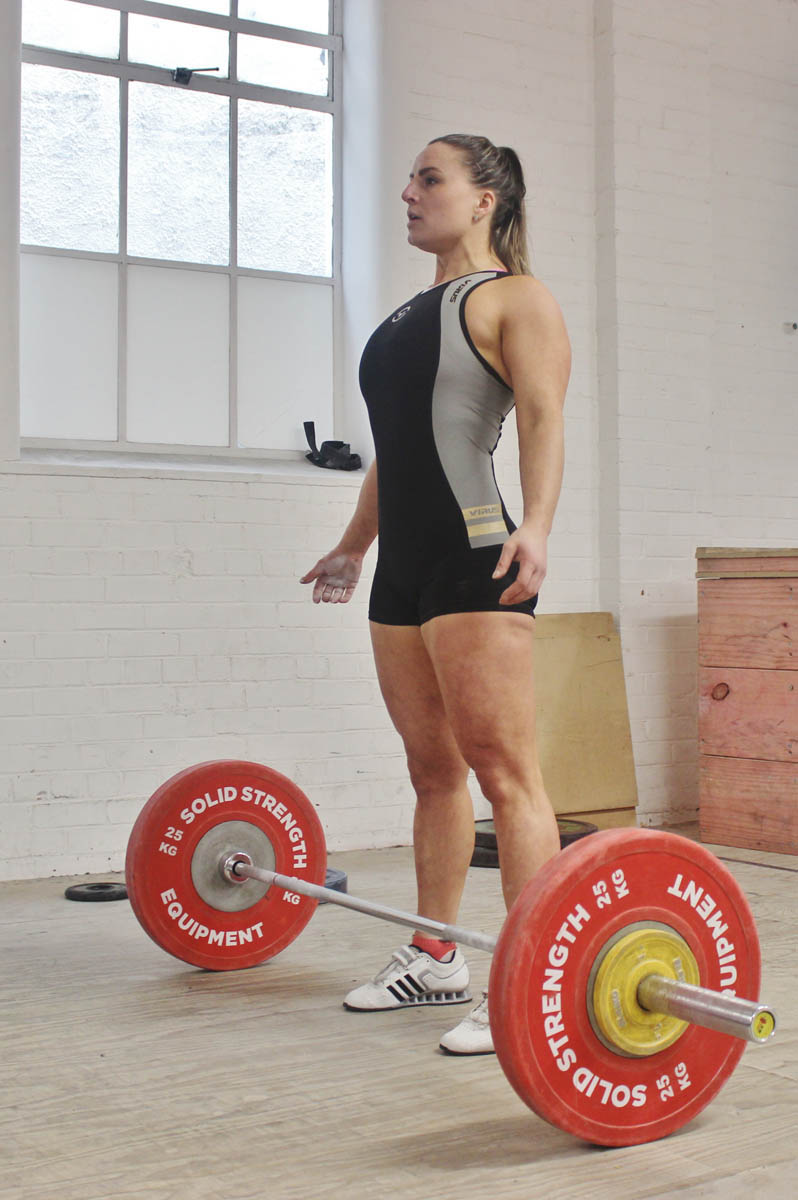 Amanda is an Olympic lifter who has been part of the New Zealand team since 2015, impressively juggling this with her role as marketing manager for the Highlanders. She is fresh home from a trip to Japan, where she scooped a bronze medal – returning in time to claim a win in the U63kg category in the NZ Nationals on Friday (September 21).
Toting Otago records in both the U69kg and U63kg classes, she jokes, "I tried to get down to U58 but my ass wouldn't let me!"
A common theme from these tough female competitors is that they, through weight training, have gained fresh and positive perspectives on their bodies – something a lot of women could do with. "You have a certain genetic disposition and I've just got big-ass thighs. And I love the fact now that my thighs can actually move some tin. I think it changed the way I looked at my body, from aesthetic to function."
A healthy diet is still key for effective training, of course – and most lifters have a solid nutrition plan. "Your body's a machine; it's only going to put out the same quality that you're putting in. No training can outperform a shit diet. I work with a nutritionist and I was amazed how much food she wanted me to eat! So it dawned on me I wasn't getting enough energy to ask my body to do what I wanted it to do. It changes the way you look at food, especially, and your body."
It's a lot easier to get started in sports as a student as well, due to our open schedules. "I wish I'd found this sport when I was at uni because being a student athlete is the dream; you've got so much more flexibility in terms of timetable. I don't think you realise until you leave uni that it's a pretty sweet gig – because work/life balance gets pretty hard sometimes," she muses wistfully.
ORLA HARRIS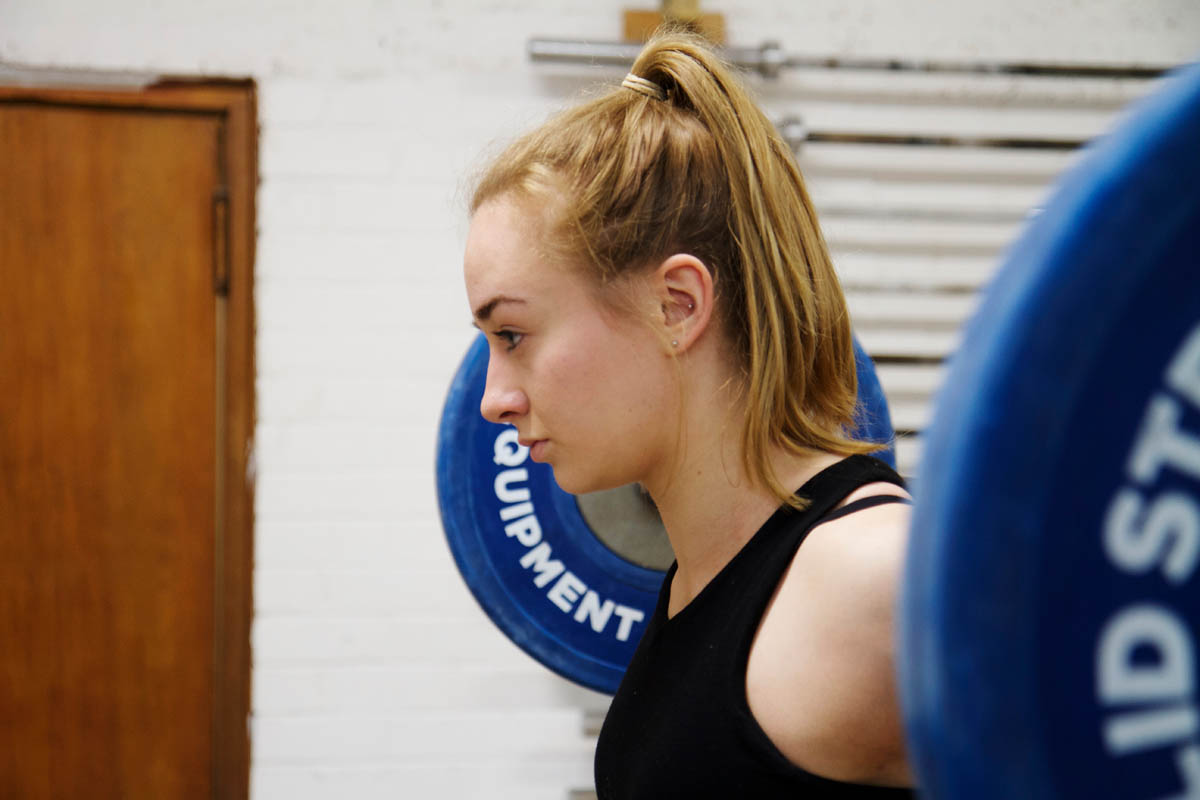 Orla is a med student who began powerlifting in 2015, during first year. Her RA at Unicol got her into it, and she now trains at Unipol. "Unipol is awesome for what it is, it's got seven power racks, a deadlift platform, and free setup benches."
In the past three years, Orla won the nationals twice in the 57kg weight class, then again for the 63kg class, snagging the open bench press record and the junior total record in the 63kg.
She bench presses 90kg. Imagine being able to bench 1.5 times your own weight! "When I first started coming to the gym, I couldn't rep the [20kg] empty bar without pinning myself. I got strong quickly in the first year!"
The great news is that if you suck at running, powerlifting welcomes you with open arms.
"I hate cardio. I just train the three big lifts. So I have one squat day, one deadlift day, and two bench press days per week." Orla says that lifting has been amazing in terms of confidence and body positivity: "If you can go into a gym and lift heavy weights with everyone watching, you're way more confident. And body positivity, going up a weight class, I feel good about it. Before I started lifting, I would have been mortified to be the weight I am now. Lifting just does amazing things to your body. Everyone suits muscle."