Do you ever have those moments in life where you revaluate everything up to a point, and wonder "why am I like this?". This is one of those moments.
I paid $25 to meet Max Key, and he pulled my hair.
Max Key is New Zealand's own Dennis the Menace and Richie Rich hybrid. As the son of former Prime Minister John Key, we have gotten to know him as a lovable scallywag. From claiming that "real men ride women" to vlogging inside of Parliament, he was the rascal first son of New Zealand.
Max is currently pursuing his dream of becoming a DJ. He doesn't care what people think, saying "they can hate me, but like the music, that's all I care about".
But the real question here is why was Max Key doing a meet and greet, and why would anyone go? The answer is simple. Why not?
I was on Facebook one day, and an ad popped up from Max, promoting his new single 'All the Way'. Max would be playing free shows around NZ for his #AllTheWay tour. As a poor student, I was aroused by the word 'free'. It mentioned a $25 VIP package consisting of a meet and greet, which grabbed my attention. I mean, who would actually pay $25 to meet Max Key and for what purpose? Then I realised it would be a good story to tell.
I asked two of my flatmates "wanna pay $25 to meet Max Key?" to which they responded with "oh yeah alright," and the deal was done. What started off as a joke based on pure irony turned into something more surreal.
Before the meet and greet we experienced a fluctuation of emotions. Anger, confusion, ecstasy, regret, and a lot of self-reflection. We didn't know what to expect. What was Max like? Who would show up? After a few pre-drinks and a good dance to Robyn's "Dancing On My Own" we were ready to change our lives. But nothing could have prepared us for what ensued.
We arrived at the venue and there he was. Max Key. Standing in the middle of the Octagon in a Puma tracksuit, gold cross earring and all. We were in shock.
We shortly realised that this hyped up meet and greet literally consisted of five people. Five people. Three of us flat together and were taking the piss. Two girls drove from INVERCARGILL just for Max Key. No words could describe it.
We introduced ourselves to Max, and he pulled us in for a hug. We were surprised by how charismatic and sweet he was. His niceness threw us off as we didn't comprehend the possibility that he would grow on us as a person. We made polite small talk and he referenced the drunk messages I sent him.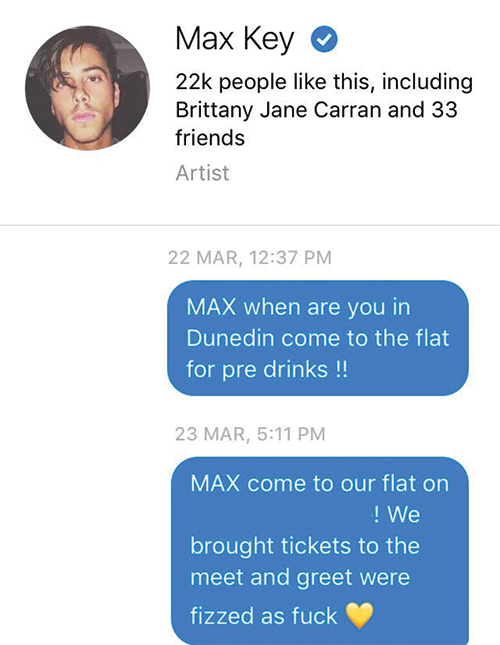 He took the liberty of signing giant posters of his face as a memento of our wonderful time together. He bragged about using up six pens at previous meet and greets. We featured on his Snapchat story, and we thought we had peaked.
But then he muttered those eight beautiful words.
"Do you guys wanna be in my vlog?"
That's right. Max Key, DJ now Vlogger extraordinaire, asked us feature in his vlog. We started contemplating getting agents. This was our big break. His five person meet and greet is now immortalised in vlog form. We hit the big time. But surely it couldn't get better than this.
Author's note: if you listen closely at 0:05 seconds you can hear me scream "Daddy" at Max.
Everyone took turns getting photos with Max, and he would pose with his typical scallywag tongue out and peace sign combo. I had one intention when getting photos with Max to help boost my social media brand. I wanted him to pull my hair.
Why you ask? Because, in 2015, a scandal dropped about Prime Minister John Key pulling a waitress's ponytail. Slowly more and more footage surfaced of John Key pulling young girls' ponytails. Everyone was so confused as to why he loved pulling hair so much. I thought, considering all the scandal around his father and ponytails, wouldn't it be funny to see if Max would pull my hair? There was only one way to find out.
So I asked, "can we get one of you pulling my hair?"
And, just like that, Max Key laughed and pulled my hair, no questions asked. I couldn't believe what happened. Maybe he didn't get the reference and thought I had some weird kink? But that couldn't justify why Max pulled my hair with no context whatsoever.
I was done. I couldn't process anything after that. He told me how much he loved my hair and to never cut it, and all I could manage to respond with was "YOU TOO BABE!". He destroyed his father's damage control.
He said he would consider me becoming his hype-man, and declined my invitation for shots. After one final hug, we decided to close this chapter. Once home we lay on the floor trying to process everything. The tracksuit, the people, the vlog, the hair, it was all so unexpected.
Although I lost $25 and the respect of my parents, I gained more than $25 worth of emotions. I truly cannot describe how bizarre this experience was, from growing to like Max Key to having him pull my hair on a Thursday evening. I am truly a changed woman.