The front page of this week's Sunday Star Times offered a fetching full-page graphic of our victorious Olympic gold medallists, punctuated by the witty headline "IT'S RAINING MEDALS!" Our Olympic success naturally deserves recognition, but I can't help but worry that this wanton, vulgar celebration of sporting achievement is detracting attention from New Zealand's more legitimate source of national pride: our celebrities.
Aotearoa's true heroes would never be found grinning charmlessly from the front page in sluttily form-fitting Lycra, shoving their tacky gold bling down the throat of the reader in the manner of a Russian oligarch. No, our real reservoir of raw talent lies in the About Town social pages. These radio presenters, reality show participants, models, actors, and product endorsers are the gods and goddesses upon whom we should be heaping our praise, respect and admiration. After all, Coxless pair Bond and Murray claimed their Olympic gold in only 6m 16s of trite repetitive arm motions. Should we not instead be celebrating the hardworking men and women who strategically tweet, eat, root and generally poledance for the public 365 days of the year? There's nothing coxless about the noble New Zealand famewhore, ladies and gentlemen. Nothing coxless at all.
To avoid the travesty of you bright young university students continuing to live your lives without the daily inspiration that is the travails of our little nation's best and brightest, I offer you my favourite celebrity life-enrichers. Think of these luminaries as Special K for the soul. I urge you to try the Special Famewhore 30-Day Challenge — healthy eating, exercise, and a bowl of self-indulgent celeb tweets every morning and quality programming every night. You'll emerge a sparkling new culturally relevant and intellectually stimulated you.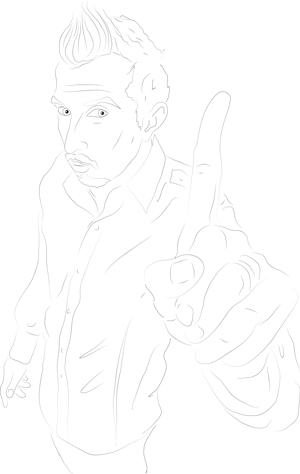 Brooke Howard Smith
Brooke Howard-Smith, 37, is the chief challenger to Clarke Gayford's title of "Most Beloved Yet Humble and Down-To-Earth New Zealand Celeb". At first glance, Brooke appears less man than God: married to former Miss New Zealand Amber Peebles, organiser of the 2011 Rise Up Christchurch Global Telethon, Skycity's poker ambassador, owner of classy Auckland nightspot the Pony Club, Target presenter...sometimes it seems like this bottomless pit of raw talent was targeted for greatness from the moment he emerged from the womb.
Virtually everything Howard-Smith touches turns to gold, as demonstrated by his role as part of the presenting team at New Zealand's 2007 Rugby World Cup bid in France. Yet Howard-Smith remains a supernova of self-effacement. In 2008, while engaged to Peebles, the man of many talents began an affair with an Auckland teenager with braces who he seduced within the sweaty confines of the Pony Club. This astute move showed that despite his Adonis-like appearance, unstoppable career trajectory, and flawless taste in wooden bead necklaces, Howard-Smith is fallible just like any other man. Prior to the affair Howard-Smith regularly hit on girls in skintight Supre dresses at Pony, but these minor indiscretions were deemed insufficient to convince the public that he was just flawed enough to be relatable. The schoolgirl, echoing the sentiments of a nation, commented that she was powerless to resist Howard-Smith's "charisma".
So what's next for the self-made man's lethal blend of Connery-esque charm, sharp wit, and classically chiselled features? Well, the sky's the limit, but for now his unique talents have spawned many imitators. It is speculated that the tradesman who recently made an appearance on Target splooging into a client's underwear while watching porn on her computer was inspired by Howard-Smith's red-faced, white-knuckled, vigorous metaphorical masturbation into the eyes and ears of the public.
Don't miss Brooke Howard-Smith on Target, Tuesdays at 7.30pm on TV3. You can keep updated on all the latest happenings in Brookeworld on Twitter (@Brooke_hs).
Clarke Gayford
I'm not naive. I know that there are cynical naysayers out there who say being a celebrity in New Zealand is like being fat and having big boobs: it simply doesn't count. But fear not. If you encounter one of these bitter, jealous killjoys in your day-to-day life, there is a simple two-word riposte that will convince them of the famewhore's role as the thread that holds the moral fabric of our society together. Those two little words are "Clarke Gayford".
I know 35-year-old Gayford rather better than the other stars on this list. I have had the immense pleasure of meeting him in the flesh not once, but twice, for a few hours at a time. Once I got over my initial starstruck bashfulness and realised that I would not in fact spontaneously combust with reverence upon entering the Gayford force-field of brilliance, I relished the opportunity to marinate in the witty repartee of the More FM host, ex-C4 presenter, general media personality and all-around good guy.
Just as his surname cannot suppress his raging heterosexuality, Gayford's swarthy good looks belie his humble nature. Despite having spent an action-packed decade as a bona fide A-Lister, Gayford's celebrity status still so confounds him that he finds himself forced to reference his friendship with Tiki Taane and his all-expenses paid trip to Antarctica courtesy of Prime in every second sentence, just to try to make sense of the whirlwind of fame and glamour the boy from Gisborne has somehow been caught up in.
Much to the chagrin of bachelorettes from Christchurch to Cape Reinga, Gayford is currently seriously involved with Shortland Street's Shavaughn Ruakere, better known as That Girl With The Freakishly Big Mouth Who Is Really Unfunny Yet For Some Perplexing Reason Keeps Getting Invited Back To 7 Days. Yet for Clarke, the road to true love has had many a hole. He has been romantically linked to singer Hollie Smith and socialite Anna Jobsz, in addition to a steady stream of less-famous gash that the ever-compassionate Gayford describes as "training" for the relationships that "really matter", a phrase which here means "offer over-airbrushed photo shoot and interview opportunities with the Women's Weekly".
The Otago alumnus' gravelly tones beam into our homes and cars via More FM and Holden commercials every afternoon, offering a sliver of hope for every Otago graduate who dreams of emulating Gayford's meteoric rise to the top of the A List. Gayford's success is a testament to what any Otago grad can achieve with the right hair product, a friendship with John Campbell, culturally sensitive Maori tattoos, a decent workout regime, the willingness to hock environment-destroying family cars on TV for extra cash, excellent cunnilingus skills, and raging megalomania.
For your daily dose of irreverent humour, tune into MoreFM drive from 4 - 6pm weekdays. You can also get the inside word on Clarke's latest antics on Twitter (@NZClarke).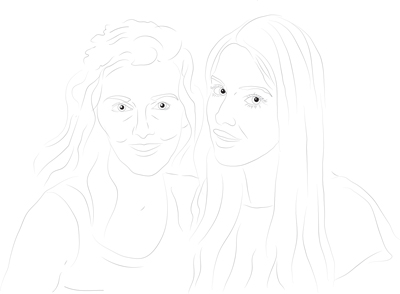 The Ridges
It's hard being a woman in this country — the waxing, the boy dramas, the diets, the constant worry that you're not being taken seriously at work after that unfortunate incident at last year's Christmas party... amirite ladies? So it's hard not to hate professional wife, interior designer, and occasional glamour model Sally Ridge, 40, and her model daughter Jaime, 18, just a little bit. The stunning mother-daughter duo are the envy of women across the country. Brilliant and business-savvy, they've won the respect of an entire nation with their lethal combination of beauty, wit, and intelligence.
As the author of an incisive craft column in the Woman's Weekly, which every week offers a step-by-step guide to crafting everything from pin cushions to fun-fur photo frames, Sally has been widely lauded as the "voice of a generation", but for Sally, family will always come first. The woman once voted "MILF of the Nation" has clearly drilled into her daughter the importance of hard work — at only 18, the daughter of the ex-wife of both Matthew Ridge and Adam Parore briefly dated Sonny Bill Williams, and apparently has "big plans" for Richard Kahui.
But although the accolades keep raining down, the Ridges remain down-to-earth. "We're just like any other mum and daughter!" laughs Sally, her blue eyes sparkling. Oh, Sally. Why must you taunt us so? You're not like any other mum and daughter, not by a long shot. You're so much more than that. But you know what? We wouldn't want you any other way.
Ultimately, doing justice to the supernova of talent that is the Ridges in a few hundred words is like summing up the life's work of Stephen Hawking in a single sentence — damn near impossible. What is there to say that hasn't already been said about the two women who piped Willie Apiata at the post in a recent TVNZ "Greatest Living New Zealanders" poll? (Ever-opportunistic, the single and fabulous Sally is said to be trying to get in touch with Willie to arrange "a casual lunch thing, maybe with a couple naughty glasses of sav").
With things on the up-and-up both personally and professionally, it's no surprise that the Ridges have begun filming their very own reality TV show, Keeping Up With The Ridges, which will air in October on TV3. The show, which critics are already calling "New Zealand's answer to The Wire", will take a candid look at the duo's glamourous daily lives. If you can't wait till then, you can "keep up with the Ridges" on Twitter (@sallyridge and @JaimeRidge24).