Archive
Posted 12:33am Friday 6th September 2019 by Grace Cowley
I don't go out of my way to chat to climate change deniers. As a Marine Science student and environmentalist, little frustrates me more than the blatant disregard for decades of peer-reviewed scientific evidence (which speaks volumes about how much fun I am at parties). But the last place I Read more...
Posted 12:05am Friday 6th September 2019 by Caroline Moratti
A recent UoO Meaningful Confession claimed to be a kitchen worker at an unspecified college, and mourned having to throw out an outrageous amount of food: "Entire tray of rice? Bin. 15 legs of chicken? Bin. Tray of veggies, salad that has barely been touched, and oohh, that one time I had to Read more...
Posted 12:02am Friday 6th September 2019 by Chelle Fitzgerald
Unless you've been living in one of New Zealand's proudest backwards communities (Gloriavale or Balclutha), you've probably enjoyed a good chortle courtesy of the country's premier comedian du jour, Tom Sainsbury - Comedian and Snapchat Dude. Tom is an entertainment Read more...
Posted 11:36pm Thursday 29th August 2019 by Chelle Fitzgerald
If you want to waste away hours of your life on prime time entertainment, look no further than the Otago University's Department of Economics (DE) Facebook meme page. There are memes. There are awkward, blurry and sideways photos of people at functions. There are Minions. It goes where other Read more...
Posted 11:25pm Thursday 29th August 2019 by Critic
As we all know, uni is a great time for experimenting with your junk, and the junk of other people. The best way to get your start in a career before ruining your life with kids is to use contraception religiously, so here are our thoughts on some of the more popular contraceptives out Read more...
Posted 11:17pm Thursday 29th August 2019 by Wyatt Ryder
In 2015, the Chinese Government allowed eight companies to establish a social credit system that would automatically rank citizens according to their data (presumably after binge watching Black Mirror). The blueprints for these plans claim that the goal is to "allow the trustworthy to roam Read more...
Posted 11:15pm Thursday 29th August 2019 by Critic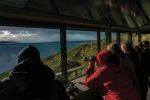 When Critic gets invited somewhere with the promise of free food and VIP treatment, it's fuckin' on. We gleefully headed out to the Otago Peninsula to see some albatross on a drizzly Saturday, which turned out to be a truly magical day of colonialism, petty theft, and cool bird Read more...
Posted 11:12pm Thursday 29th August 2019 by Oscar Francis
I arrived at Wakefield Park at five minutes to halftime. It was forty minutes past eight on a Thursday evening and I was running late for no good reason. Aside from me, there were two other spectators: Bryn and Tintin, both ex-Otago students. I mentioned I was writing an article for Critic to Read more...
Posted 10:53pm Saturday 17th August 2019 by Nina Minogue
Fast fashion is an issue that is so big it sometimes feels hopeless. So much so that in first year after I watched a Netflix documentary called The True Cost I swore a silent oath that I wouldn't buy any new clothing for a year. The good news is that there are lots of things you can do to Read more...
Posted 10:48pm Saturday 17th August 2019 by Phillip Plant
Critic tracked down the lecturers with the hottest threads and awkwardly got them to talk to us about what makes their style so fresh. As any postgrad knows, it's much better to sniff lecturers out and catch them by surprise in the real world - that way they don't have time to ghost your Read more...
SHOW: