Posted 8:43am Sunday 10th October 2021 by Fox Meyer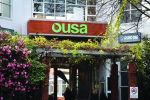 OUSA's Blues and Golds awards are "in recognition of the sporting, cultural and service achievements of current University of Otago students," said still-president Michaela Waite-Harvey. This year, Laurel Hubbard took home Best Sportswoman. Strangers on the internet, who Read more...
Posted 8:19pm Tuesday 2nd March 2021 by Sean Gourley
Shitposting page The boys are what has started a campaign to bring down international oil giant BP by tormenting them on Facebook. On 9 February, at 6.30pm, The boys are what opened their campaign with a post that said "good evening, fuck BP." Over following weeks, The boys are Read more...
Showing results 1 - 2 of 2
TAGGED ITEMS
Showing items with the tag:
troll