Posted 1:29am Saturday 31st July 2021 by Denzel Chung
E-scooter operator Neuron announced that they will offer 10,000 $10 vouchers to people wanting to scooter to their Covid-19 vaccination appointments. They're encouraging everyone eligible to take them up on the offer, including over-60s. Beginning from July 30, people who have the Read more...
Posted 11:09am Tuesday 13th July 2021 by Alex Leckie-Zaharic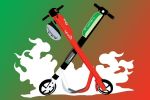 Citing "careful consideration" and the "weighing up [of] many factors", Lime has decided to retreat from Dunedin. But anyone with half a brain knows that the real reason because we threw so many of their scooters in the Leith. Lime is a self-proclaimed "global Read more...
Showing results 1 - 2 of 2
TAGGED ITEMS
Showing items with the tag:
scooter