Posted 3:47pm Monday 20th September 2021 by Fox Meyer
Earlier this year, we wrote about a surge in postgraduate enrolment rates due to something we called a "panic Masters". This year, still unsure of what the future holds, some students have expressed that they'd rather stay away from further study than enrol in it just to feel like Read more...
Posted 4:09pm Sunday 30th May 2021 by Fox Meyer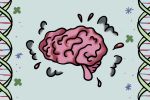 A study released last week surveyed 4,499 Kiwi students to see if their mental health got worse when they worked on their PhDs. The data said: no, their mental health was not affected. "You've gotta be fuckin' kidding me, right?" asked Dan, a fourth-year. "Is that Read more...
Showing results 1 - 2 of 2
TAGGED ITEMS
Showing items with the tag:
postgrad