Posted 2:14am Monday 9th August 2021 by Sean Gourley
Tom Sharp is a musician well-acquainted with the Dunedin scene. For his latest project he has decided to go solo and give Dunedin a taste of his own unique style. He has released two singles and an EP under the name beatvandal. Tom started taking law at Otago after a gap-year in 2018, but Read more...
Posted 3:16pm Sunday 1st August 2021 by Fox Meyer
Wax Mustang's Re-O performance featured a spinning globe backdrop, which appeared to be missing a certain eastern Australian state. A Critic reporter attended the gig and spotted the apparent error. The globe was see-thru and rotating, so that you could see the continents facing you as well Read more...
Posted 4:14pm Sunday 25th July 2021 by Asia Martusia King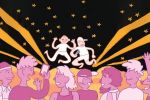 A Kate Bush flash mob, held in the Octagon on Saturday 17 July, was described as "euphoric" by student attendees. The Most Wuthering Heights Day Ever is an event held at locations around the world, where participants recreate the music video for musician Kate Bush's 1978 song Read more...
Posted 5:44pm Sunday 25th July 2021 by Sean Gourley
Image credit: Rosa Nevison Rezzy Crooks are now one of the OG bands on the Dunedin scene well established by many a pint night. There are four members Sam, Jamie, Toby and Josh in a classic two guitar, bass, and drums set-up. We checked in with them to see what it takes to make it to the Read more...
Posted 4:19pm Sunday 18th July 2021 by Elliot Weir
Aussie psychedelic rock band Ocean Alley have jammed their way into our playlists, festivals, and hearts in recent years with hit singles like 'Confidence' and 'The Comedown'. In light of their upcoming tour across Aotearoa, guitarist Mitch Galbraith sat down with Critic Te Read more...
Posted 4:28pm Sunday 18th July 2021 by Annabelle Vaughan
Singer-songwriter Alex Dykes is loud, full of life, and new to the Dunedin music scene. His upcoming album, The Dunedin Study, is set to be released this summer. Critic sat down to chat with Alex on his upcoming projects, his time at Otago, and his creative process. Alex started playing Read more...
Posted 7:52pm Sunday 30th May 2021 by Barney Connolly
Dunedin venues have slowly been disappearing thanks to the boomer-fearing bureaucrats who run this city. There is current controversy surrounding these venues and noise control and it's now more important than ever to support our local venues and musicians. So here you have it, a definitive Read more...
Posted 11:25pm Sunday 23rd May 2021 by Denzel Chung
A "Save Live Music Forum" brainstormed ways for musicians and venue owners to do something about noise control regulations, which musicians claim create an atmosphere of "fear about what is allowed" in Dunedin. Hosted at the Dog with Two Tails on Saturday 16 May, the Read more...
Posted 12:45am Monday 24th May 2021 by Annabelle Vaughan
Named after the famous surrealist photographer and the Spongebob villain, Man Ray is one of Dunedin's newest live bands. Man Ray sat down with Critic to talk about what it's like gigging around Dunedin, the process of creating music, and their goal to create safe spaces for everyone Read more...
Posted 4:58pm Sunday 16th May 2021 by Sean Gourley
Sam Charlesworth is a fresher studying Studio Production, Marine Science, and Te Reo Māori here at Otago. With just "a few mics and an interface," he has recorded a huge amount of music and has recently started playing gigs around Dunedin. Sam records all of his songs without Read more...
Showing results 11 - 20 of 127
TAGGED ITEMS
Showing items with the tag:
music