Posted 3:57pm Sunday 27th February 2022 by Zak Rudin
Dunedin's newest up and coming eclectic musical duo "Hazmat Monkey" have just released their self-titled double album. The album is the first to feature their all-original music, and is truly a force to be reckoned with. Hazmat Monkey first emerged in 2020, when two jazz Read more...
Posted 12:17am Saturday 2nd October 2021 by Annabelle Vaughan
It's a Saturday night. The breathas and beezys are out in North Dunedin. The only thing accompanying them is a box of piss, their trusty vape, and promises to themselves that they are going to break. The notorious party streets are full of people and the rumbling, shaking sound of drum and Read more...
Posted 12:19am Saturday 2nd October 2021 by Sean Gourley
Dale Kerrigan are a local noise rock band that has been playing gigs all over NZ this year. Shlee's vocals over a crashing backdrop gives Dale Kerrigan a distinctive sound. They recently released their first album on Spotify. Their sonic tonic consists of Shlee on guitar, her brother Josh on Read more...
Posted 12:14am Saturday 2nd October 2021 by Annabelle Vaughan
Ōtepoti band L Hotel are known for many things. Pint Night gigs, being objectively cool blokes, playing covers, and releasing all round good tunes. The trio, which consists of former reality TV star and bassist Dave Borrie (Taurus sun), drummer Fred Richardson (Leo sun), and guitarist Jono Read more...
Posted 3:32pm Sunday 26th September 2021 by Denzel Chung
Covid restrictions have been putting Dunedin's live musicians under pressure, needing to adjust to a new normal of small gigs, even tighter finances, and lots more time spent online. Critic Te Arohi spoke to local musicians Boaz Anema and Zi Shaw, as well as sound engineer and music scene Read more...
Posted 3:41pm Monday 20th September 2021 by Sean Gourley
Joseph Jakicevich is an artist currently based in Wellington who popped down to Ōtepoti at the start of the year. His unique artwork often features eye-catching distorted subjects. Critic checked in with him to see what it was like collaborating with artists from all over Aotearoa. Joseph Read more...
Posted 4:04pm Sunday 12th September 2021 by Sean Gourley
Adelaide Cara is an Ōtepoti musician who recently recorded their debut album 'How Does This Sound?' The album is nostalgic and dreamy, perfect to listen to while you drive around at night, with haunting vocals. Thankfully they released it on cassette tape, so even my very old car Read more...
Posted 3:37pm Sunday 5th September 2021 by Annabelle Vaughan
Best known for their funky, genre-spanning sound and playing plenty of pint nights, Dunedin band Black Sale House are leaving a major mark on the Dunedin music scene. The group of five, made up of Masin on vocals, Samuel on keyboards, Finn on guitar, Joshua on drums, and Sol on bass, sat Read more...
Posted 4:06pm Sunday 22nd August 2021 by Annabelle Vaughan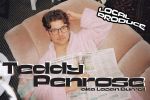 Image credit: Rosa Nevison Otago student Logan Burrell is well accustomed with the Dunedin music scene. After playing in several local bands, he has since branched out on his own solo project, releasing music under the pseudonym Teddy Penrose. Critic sat down with Logan to chat about his creative Read more...
Posted 2:15pm Monday 16th August 2021 by Elliot Weir
Pōneke-based Daniel Vernon is a man of many talents. He's an artist, a podcaster, and is in a band. He writes and plays music in Dartz, makes political satire comics as yeehawtheboys, and talks about sex, love, and relationships on the Just The Tips podcast. Daniel took some time out of Read more...
Showing results 11 - 20 of 138
TAGGED ITEMS
Showing items with the tag:
music