Posted 6:42pm Sunday 2nd May 2021 by Annabelle Vaughan
The Dunedin Sound is one of New Zealand's best known music scenes. The cold, dreary and quirky city that we call home has produced some of New Zealand's most notable songwriters and musicians. Much of their work still influences Dunedin musicians today, and is responsible for our unique Read more...
Posted 6:47pm Sunday 2nd May 2021 by Rutene Rickard
While moshes can seem like animalistic anarchy, there is a crucial code of conduct that keeps all participants safe in their gnarly sonic and sweaty adventures. Moshing, which started up during the '80s with the rise of punk and hardcore, is now a widespread concert activity. The original Read more...
Posted 7:36pm Sunday 2nd May 2021 by Fox Meyer
39 countries submitted a music video. Critic has never paid attention to Eurovision, but now that Australia is involved for some fucking reason, we had to. We ranked all the videos ahead of the 22 May finale across three categories: Head-boppiness, performance on-screen, and general vibe. Then we Read more...
Posted 3:02pm Monday 26th April 2021 by Susana Jones
Ah Baldwin Street, a Dunedin icon and the disputed steepest street in the world. Upon recently turning 21, I asked myself a bunch of questions, as any true Pisces would. Who am I and what am I doing? What is life? And am I making the most of it? Most importantly, how can I get triple caked Read more...
Posted 3:45pm Monday 26th April 2021 by Sean Gourley
Night Lunch are a Dunedin duo of Liams made famous by the smash hit music video for their song House Full of Shit. The band features the uniquely minimalist combo of Liam Hoffman on drums and Liam Clune on a home-made instrument called a diddly bow. Hoffman has finished Uni but Clune has come back Read more...
Posted 5:24pm Sunday 28th March 2021 by Sean Gourley
The Slinks are an up and coming band on the Dunedin scene. Starting out in 2019, they've worked their way up from playing at the humble Crown Hotel to playing gigs as far out of town as Queenstown. They have two EPs out on Spotify: The Slinks and Come On Now. We checked in with them to see Read more...
Posted 1:35pm Sunday 21st March 2021 by Fox Meyer
Dunedin-raised Judah Kelley believes that building your own power and voice is important, and that music is a way to share that message with anyone who wants to listen. "It's a better message to send than just another sad song," she said. She continues to be a local crowd-pleaser, Read more...
Posted 1:13pm Sunday 14th March 2021 by Sophia Carter Peters
The scene: Waterfront warehouse district, surrounded by big trucks, empty buildings, and corrugated iron everywhere. Enter a new resurgence of the local gig scene. A quiet, yellow corner building with high ceiling and some bizarre architecture is the setting for a rejuvenation of the Dunedin music Read more...
Posted 9:57pm Saturday 6th March 2021 by Sean Gourley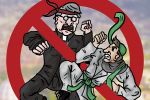 FM Radio is like your mate's parents who you didn't realise are quite Christian until you started talking about strip clubs in front of them: easy to get along with until Jesus enters the picture. For a bit of a project in O Week, I forced myself to listen to our country's most Read more...
Posted 10:35pm Saturday 6th March 2021 by Annabelle Vaughan
As the saying goes, you win some, you lose some. This mantra rings especially true for one of Dunedin's newest up and coming acts, Sometime Winner. The five-piece line up consists of lead singer Louis (who dubs himself Kid Freeman on the Mic), guitarist Silas, violinist Rose, bassist Read more...
Showing results 11 - 20 of 111
TAGGED ITEMS
Showing items with the tag:
music