Posted 2:35pm Sunday 6th March 2022 by Zak Rudin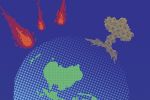 As if a global pandemic and the threat of world war weren't enough, the cheerful souls at the UN's Intergovernmental Panel on Climate Change have threatened climate-related mayhem will be coming for us as well. Again. The IPCC report, "Climate Change 2022: Impacts, Read more...
Posted 1:28pm Monday 16th August 2021 by Fox Meyer
Each year, bets are taken on when the first Magnolia bloom will appear between the Clocktower and Quad. This year it was August 10. The average blooming date has gotten earlier and earlier since records began in 1995. Gut instinct would attribute this early blooming to climate change. As seasons Read more...
Showing results 1 - 2 of 2
TAGGED ITEMS
Showing items with the tag:
ipcc