Posted 9:52pm Sunday 22nd August 2021 by Fox Meyer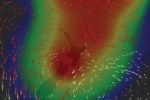 Users of the main building on Otago's Wellington campus were told on Thursday 12 August that they would need to relocate for at least a month. The building was found to be compliant with just 15% of the earthquake safety requirements of New Zealand's New Building Standard. Staff and Read more...
Posted 10:53am Tuesday 13th July 2021 by Erin Gourley
Professor David Murdoch has many hats on his plate to juggle. He's still working in clinical practice for the Canterbury DHB, and he's still the Dean of Otago's Christchurch Campus. He's a pathologist, a career that has recently become very relevant and interesting Read more...
Showing results 1 - 2 of 2
TAGGED ITEMS
Showing items with the tag:
dean