Posted 4:17pm Sunday 9th May 2021 by Alice Taylor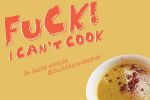 Congratulations my friends, we have unofficially descended into Dunedin's bone-chilling winter. As I struggle to come to terms with this reality, I have been comforting my soul with this Potato and Leek Soup. This recipe is perfect for those chilly days, and it won't break the bank Read more...
Posted 1:34am Sunday 14th March 2021 by Callan George
Just do it. Start cooking. Make a giant fuck off meal and serve it to the whole clan. Odds are, they'll accept a free feed. Repeat this until your flatties feel as if they have to return the 'favour' and then boom, you've guilt tripped them a system of mutual Read more...
Showing results 1 - 2 of 2
TAGGED ITEMS
Showing items with the tag:
cooking