Current is an exhibition in which nine local artists and designers respond to pieces from the Otago Museum's textile collection. The idea was planned to coincide with ID fashion week. Critic spoke to the Assistant Collection Manager of Humanities at the Otago Museum Jamie Metzger, who conceived and curated the exhibition. She said she would like the exhibition to search for "what inspiration means, what it means to different people, and how museums can be a stimulus for inspiration."
The Otago Museum holds approximately 1.5 million artefacts in its care; arriving at an exact number is ongoing inventory work for collections staff. The textile collection is organised into two areas: European and Ethnographic. It is one of the most extensive collections in New Zealand. Jamie got the curators together to create a list of objects that spoke to the diversity of the collection in terms of aesthetics, techniques, and "the weird and wonderful things that we thought people might be attracted to." She says that some of the designers and artists were instantly drawn to an object, while others asked to see more in a certain area.
When the finished pieces were brought in they needed to go through the museum's pest management process, which involves freezing. Jamie says the freezing "might seem like an unusual thing for a museum to be doing but is essential to maintaining a healthy collection and something we have to take into account early on in our scheduling." The garments and artworks were carefully packaged to prevent condensation forming. Then, they are put into a regular chest freezer to kill any insects or mould that may have been living in them. There is a logbook on the top of the freezer with objects, dates, and found pests, such as "a beetle". The pieces are frozen for two weeks and then brought out to be slowly acclimatised back to room temperature. Once the process is completed the objects are not allowed out of the museum. Some materials, such as latex, ceramics, wood, and metal, could be damaged by the freezing, and so are given a visual pest check instead.
We walked through hallways to a storeroom where the objects of inspiration were waiting to go on display. First, we saw James Bellaney's choice, a "Laba Shango," a ceremonial bag from the Yoruba in Nigeria. Shango is a God of thunder. A Shango priest would wear this bag during a ceremony. It's a symbolic object rather than a bag you can put anything in. The priest would rattle the bag while going round picking up celts or adzes. "The Yoruba believe that during a thunderstorm, when thunder strikes the earth," says Jamie, "what forms are these celts. They call them thunder-axes and they're believed to be the physical embodiment of thunder." Jamie was able to link James up with the collector who once owned the item and, Jamie says, "it became quite a personal experience for James."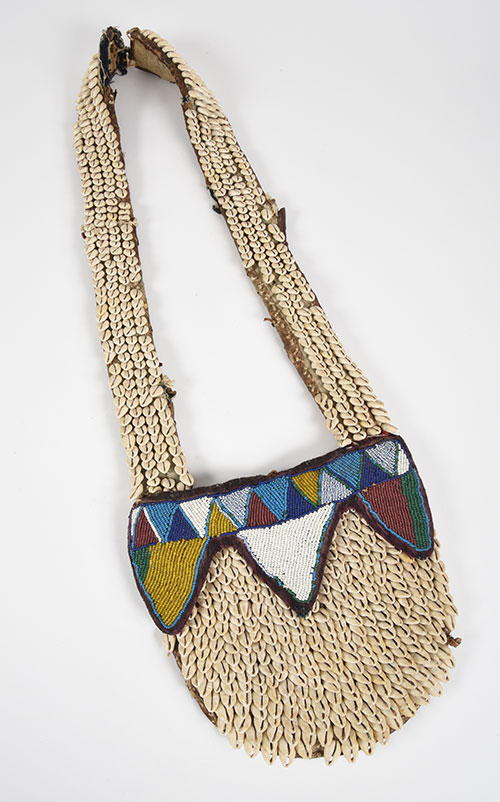 Laba Shango. J A & P H Vanderburg Collection
Max Mollison chose the next object. It's a 1950s cocktail hat, vaguely lobster shaped and covered in bright pink plastic beads with serrated edges reminiscent of crab claws. It was donated to the museum as part of the Mrs H. Smith Estate. Jamie says, "We think you would have clamped this onto your head" as there are no holes in it for hatpins to go through. "In the 1950s no outfit would have been complete without a beautiful cocktail hat." Max interpreted the beads to be like crab claws. Max was drawn to it as he thought it was "mysterious and glaringly obvious at the same time. You can look at it and think 'oh it's a crab claw hat, but wait is it?'" The mystery of the object got Max thinking, "Who wore this? Where were they going? Are they crab claws? What is a crab?" It sparked his imagination and his excitement.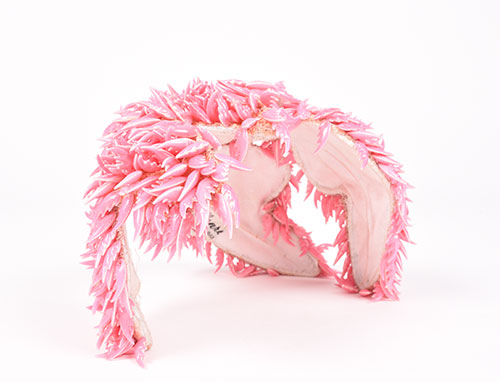 Cocktail hat. Gift of Mrs H Smith Estate; Otago Museum Collection
The next item inspired jewellery maker Kelly O'Shea. Jamie says it is "probably one of the more strange ones we've had in the collection." It is a pale yellow silk hood that would cover an entire head, with a drawstring round the neck. There is a small mica window in the front for the wearer to look through, and a diamond of mesh, presumably to breath and talk through. "We don't know for sure what this hood was used for. We can only make suggestions, which adds to this object's aura of mystery." The curators think it might have been used by an aristocratic woman when she was getting ready, to protect her makeup and her hair, or maybe when she was travelling. Kelly was intrigued by this piece providing more questions than answers. "A lot of the time with our objects," says Jamie, "having a complete provenance is the exception, not the rule." Kelly has created an interactive installation that plays on the mystery of her chosen object. She wants people to consider the possible stories behind why this hood exists; what would the person be doing in it, ideas innocent through to salacious.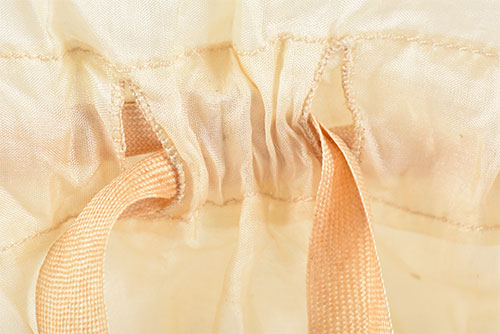 Hood. Eppinghoven Collection; Otago Museum Collection
Clothing label STEEP STReeT chose the next item. It is a kaftan from the 1970s made by a Christchurch label called Fanny Bus. The designer created fringe fashion garments for women who were after an alternative to the mainstream. This kaftan was a collaboration with Whetu Tirikatene-Sullivan, the youngest woman elected to New Zealand Parliament at the time, the first female Māori cabinet minister, and the first MP to serve in government while pregnant. Jamie says, "She was this incredible lady - a champion ballroom dancer, a champion fencer, and was just nailing life, a big boss lady." She was also designing garments and fabrics in collaboration with Fanny Bus, some of which she wore in Parliament. STEEP STReeT were intrigued by the idea of textile and print and fashion being an expression of power and cultural identity. To them, Whetu Tirikatane-Sullivan represented someone radical, breaking down barriers.
Kaftan. Gift of Dr Pauline Mahalski; Otago Museum Collection
Artist and tattooist Devon Smith chose a pair of fleshy pink silk stockings. The stockings are embroidered with flowers and darned with shiny thread where holes have worn through. Jamie says Devon was instantly drawn to the stockings. "The idea of a very kind of fleshy piece with colour. It looks almost like the image has been tattooed on the foot." The stockings are part of the same collection as the hood Kelly O'Shea chose. Devon said she chose the stockings because "I find unworn silk stockings have such a strange visceral look—once they're off the body, sitting in a puddle of thin fleshy colour they look almost like shed skin. When I found these stockings buried in tissue in one of hundreds of white boxes, the embroidery was what initially caught my eye, but the careful darning and really obvious relation to the female body was what in the end made me choose to work with them."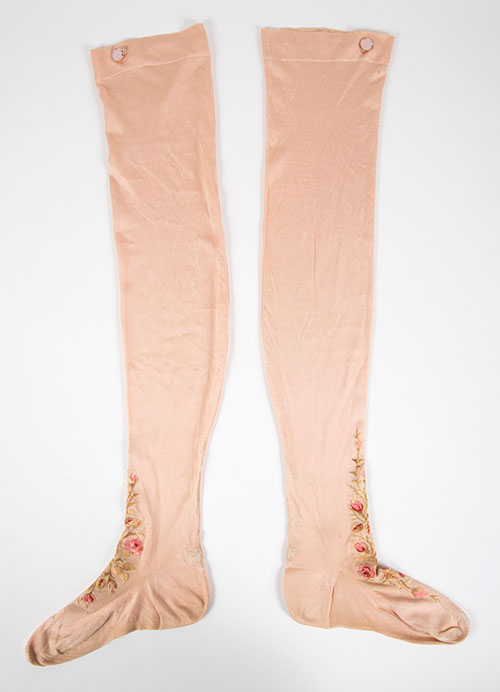 Silk stockings. Eppinghoven Collection; Otago Museum Collection
The next exhibit has an odour to it, which attracted clothing designer Melanie Child. It is a suit made out of salmon skin. The museum got the suit made on commission in 2013. It is from Heilongjiang, a small province in China, where the Hezhe people live. The Hezhe people are one of China's smallest ethnic minorities with less than 6000 reported in 2016. They are some of the only people who know the techniques needed to make the suits. The skin is removed from the fish, then dried and descaled. It is then hammered with a mallet to make it as soft as cotton. This one has never been worn and is kept wrapped in tissue paper in a flat box. It's also waterproof and very malleable. Apparently the smell does go within a couple of months. Melanie told me: "What caught my eye (and nose) first was the way the skins were pieced together creating a gradient effect, which reminded me of my own work process when upcycling denim. Odour is something I deal with a lot when working with second-hand clothing— it often has a distinctive smell when I first cut into the garment before washing the finished garments, so I quite liked the fact that the suit affects more than one sense." Sometimes, when Melanie unpicks the seams of denim garments, she finds flakes of human skin inside.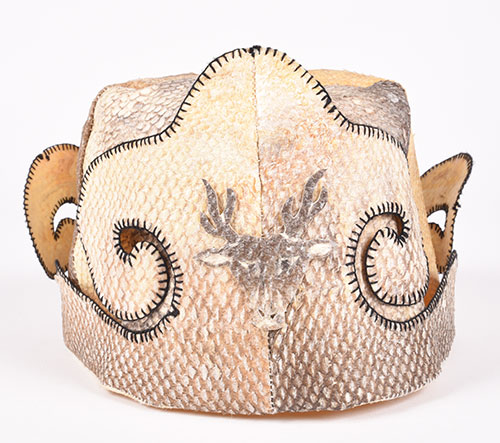 Hat. Otago Museum Collection
Boots. Otago Museum Collection
The curators left a space in the exhibition for a recent graduate from the Otago Polytech textile course. Students submitted their lookbooks and the museum staff selected from them. They chose Jessica Leigh. She loves history and wanted to choose something from a young Victorian woman, having watched the show "Victoria" while she was embroidering garments for her graduate collection. Jessica's chosen object of inspiration is a day dress from about 1860, a time when the bustle was just coming in. Dresses were beginning to have a little bit of flair at the back rather than being a complete bell shape. Jessica responded to the day dress with a piece that contrasts ideas of silhouettes from the Victorian period and today.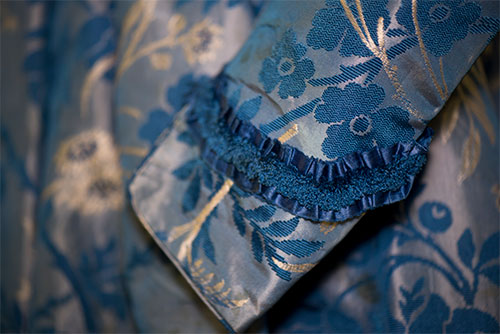 Day dress. Gift of Mrs E Oakden; Otago Museum Collection
Behind Jessica's choice is another dress on a mannequin - a dinner dress from approximately 1890 picked by artist Flynn Morris-Clarke. "We can tell it is a dinner dress from the really high neckline," Jamie said. The dress was worn before electricity had come into the home. It is covered in sequins designed to flicker in candlelight. The sequins form a Greek-style key along the hems, and the body is covered in sequin laurels. It looks constrictive and uncomfortable but very beautiful. The dress is from the same collection as the stockings and the hood, but the curators believe it could have belonged to the owner's mother, as the style is older than the rest of the collection. Flynn wanted a work he could manipulate and mainly chose the dress for aesthetic reasons. He says he found himself "creating and fabricating an idea around it." The dress is part of the Eppinghoven Collection, which came from Baroness Louise Marie Alexandrine von Eppinghoven. Louise Marie, known as Lison, was born in 1894, the only daughter of Anna Lydia Harris and Arthur von Eppinghoven and the granddaughter of a former Belgian King.
Professors John and Jocelyn Harris of Dunedin were Louise's closest relatives (John was Lison's cousin) and they visited her regularly from 1960 onwards when they lived in London. Not long before she passed away she gifted them the Harris's furniture, souvenirs, and three Louis Vuitton trunks filled with clothes, letters, photos, linen, parasols, jewellery, lace, furs and gloves that they brought back to New Zealand. The collection of dresses, nightwear, underwear, and accessories were loaned to the Otago Museum in 1980 and 2002. All of the material was donated to the museum under the name the "Eppinghoven Collection" in 2013.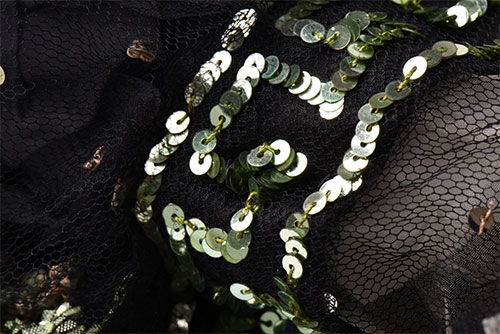 Dinner dress. Eppinghoven Collection; Otago Museum Collection
The final object, chosen by Karen Taylor O'Neill and Elise Johnston (Three Cups of Tea Ceramics), is a classic kiwi Swanndri from the '70s. The jacket has the distinctive red-and-black check and Swanndri authentic back waist adjuster. It is a symbol of Rural New Zealand, of timelessness, quality and toughness. "The idea they've gone with is that Swanndri is a very practical, NZ textile." Three Cups of Tea have created a large object, the biggest they could fit in their kiln, that reflects the practicality and down-to-earth beauty of the Swanndri. Elise from Three Cups of Tea says: "We were drawn to the Swanndri because of a personal connection with the garment. We have both been kept warm and dry on many occasions by our 'Swannies'. Its highly functional design fits with our Three Cups of Tea Ceramics aesthetic, and bold surface decoration was something we felt interested to experiment with in our medium of clay and glaze."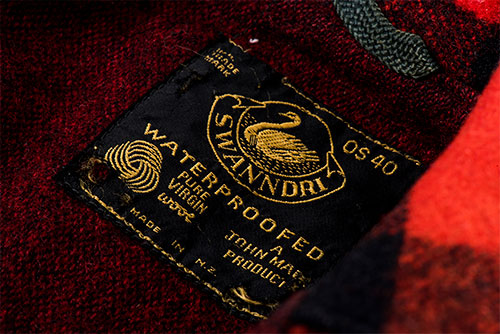 Swanndri Bush shirt. Gift of Dave Hughes; Otago Museum Collection
The third part of Current, along with the objects from the museum and the artists' responses, will be an accompanying edible experience by the Otago Polytechnic culinary arts students. The culinary artists made food and drink to reflect the artists' and designers' responses to their chosen object—from the very wholesome and plain to the weird and extravagant. Jamie's idea to incorporate food in the exhibition was in order to make the audience interact with the museum's displays in ways other than simply looking at the exhibits. "It's the first time we've ever attempted a food inspiration. Normally it's very much passively looking at things, it's not incorporating other senses: smell and taste. It's exciting." The students had five days to complete their projects—they began on Monday and deliver the finished products on Friday.