Ines Shennan chats with a handful of Otago University lecturers to find out what makes them tick. She discovers that exploring the local neighbourhood at a young age was a common theme, as is surfing and visiting the Dunedin Public Art Gallery. Read on to discover some curious insights.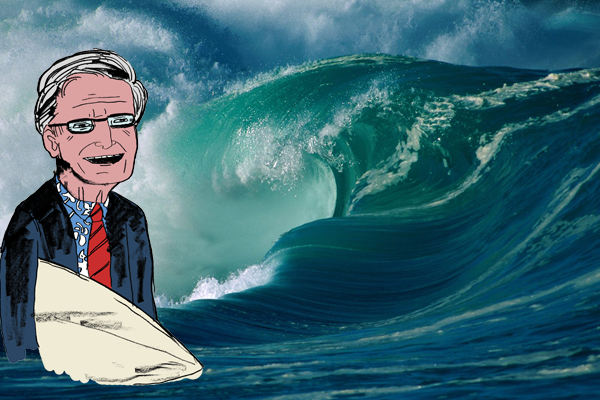 Mark Henaghan:
The Bondi Bodysurfer
Nowadays, if you found a three-year-old boy roaming around the local train station unaccompanied, instinct might direct you to call the police. Back in Mark Henaghan's day, such a response was not deemed necessary, as Henaghan himself navigated his local Timaru at this tender age for some quality chinwagging. At four years old, his mother preemptively bought him a school uniform and Henaghan's response, naturally, was to put it on and go knocking on people's doors showing it to them. He is still as effervescently charismatic today as the Dean of Law here at Otago. He's always been a conversationalist, philosophically noting that "there's always something you pick up, how the world looks from another person's point of view."
After his Timaru schooling, Henaghan journeyed to Dunedin as a UniCol boy and pseudo-people-smuggler who would sneak people in after-hours for fellow residents through his basement floor window. Henaghan recalls the fun he had during his first year – "too much fun" – adding that it was lucky there were no exams at the end of first semester in his day, given his partying. He put his head down once August rolled around, though, and after completing his studies, Henaghan made the leap from student to teaching fellow. Despite his immense knowledge of and involvement in family law, he has never actually worked in a law firm, instead providing advice, helping with submissions, and training Family Court judges.
Henaghan has an exacting email protocol. All emails are printed off at the end of the day, and he comes in early each morning to respond to them – a time-consuming task which takes him about an hour and a half. Henaghan bemoans the pervasiveness of email and social networking, steadfastly ignoring the notifications that pop up on his new iPhone. "I just don't know how you young people can get anything done with emails and Facebook and everything else," he says with a chuckle.
During his mid-teens, Henaghan was a surfer ("carrying a surfboard at 16 was quite cool") though he concedes that "Timaru's waves were only about an inch tall … I might have caught one wave in Timaru in my two years of surfing there." True to form, though, he would utilise the time bobbing on the flat water to "sit out on the surfboard having a yarn." Nowadays, his summer adventures often include a jaunt to Sydney where he engages in a bit of bodysurfing. Henaghan jumps on a bus and tackles the clean, warm waves before "lying in the sun even though I've got white skin that goes pink." For him, this is the ultimate relaxation.
Once a keen cricketer, Henaghan is currently in his 54th rugby season. In the weekends he enjoys two-hour-long bike rides, roaming all over Dunedin. But there's more: skipping. "I would advise skipping very strongly. I reckon I've become fitter than I've ever been." Just a plain plastic rope and there you have it, according to Henaghan. "20 minutes skipping, if you go hard at it, you've done enough for the day."
Henaghan's other favourite pastime is a trip to the flicks. He admits that "my eyesight isn't good enough to sit near the back," so he perches at the front with his jaffas, in quiet late-afternoon screenings. "I don't really care what the movie's about really, it's just the jaffas and the dark. I think it's the experience of being in a movie theatre I enjoy."
Erika Wolf:
The Art Historian, Sportswoman and Coconut Collector
Wolf's interest in art was clear from the moment I sat down. Her expansive collection of books fills up her office space, and she launches enthusiastically into a discussion of her current book project.
The project stems from her PhD thesis, which draws from the Soviet photographic magazine USSR In Construction. The project is currently at the stage of a "long overdue book," though the manuscript will ideally be out next year. Even recently, Wolf came across a "whole cache of documents from after World War Two when the magazine was restarted, which tied in all of Stalin's inner circle and tied in all of the developments and propaganda between the US and Russia."
The topic is certainly fascinating, and with relevant materials "popping up every now and then" it's not difficult to understand how a "really huge project got that much bigger." As well as teaching undergraduates and supervising at PhD level, Wolf is also writing a book spanning the period 1839 to the present, on "the cultural specificities of photography in Russia." She also recently organised a symposium, a poignant reflection and discussion between viewers and artist Shigiyuki Kihara for the latter's current exhibition at the Hocken, Undressing The Pacific.
After completing her undergraduate at Princeton, where Michelle Obama was one
of her sociology classmates, Wolf headed to the University of Michigan ("the great unwashed herd") to complete her postgraduate study. Once a student who got Bs, Wolf developed an unusual allergy to pot, ditched the ganja, and became an A student.
Her curiosity for art history seems to apply wherever she may find herself in the world. Wolf notes that, despite the challenges in teaching art history in terms of "where the art is," she overcomes this by making art more relevant to the daily lives of her students, encouraging them to use local resources.
Wolf sees her role as one of helping students to "develop their sense of responses to things and to help give them some of the tools ... to think about the things that are important to them." She also urges students to understand the geographical and historical context of artworks, even though this "might take some digging." A greater understanding of context enriches our appreciation of great art, and "we can still be completely blown away" by the frescos of the Sistine Chapel, even from the relatively alien environment of modern-day Dunedin.
Amongst the dedicated research, book-writing and teaching Erika does, she is also an avid sportswoman who played rugby for America. The Touring Women Over Thirty team – or "TWOTs," as she says with a jovial laugh – travelled and entered tournaments; and though most of the team doesn't play anymore, Wolf did play at a Dunedin club for number of years. A warm-up would now be "a little circle dance to Johnny's Cash's 'Ring Of Fire'." She also swims at Masters level, so Moana Pool is a frequent haunt.
Wolf was struck by Dunedin's "kick-ass contemporary art scene" from the first time she came here and had the opportunity to wander around. She was impressed to see a major gallery right in the centre of town, and was also on the Blue Oyster Gallery's board for number of years. Her experiences conversing with local and national artists is also positive, as she finds them generally receptive to discussion for research, be it hers or students'.
Wolf is very much a traveller, often journeying to the likes of Russia and Romania. She notes that the food, the music and the people of any place will always make a big difference. Wolf's excursions started as young as three. Living in Hawaii then, she was a "real wanderer … we had this pedal and dump truck and I'd just get in and take off." Sometimes she'd be found three blocks away, picking up fallen coconuts to get her mother to make her coconut pie.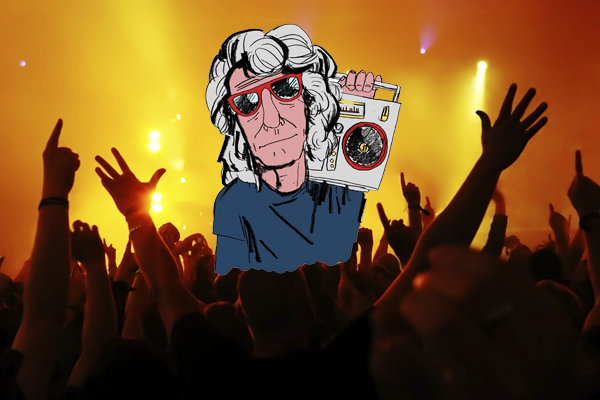 Brian Roper:
The Adrenaline-Addicted Music Enthusiast
Brian Roper is a fixture of the Politics department at Otago, his curly hair and boyish enthusiasm his most salient features. Approachable and eager, his teaching style is famously memorable and provocative.
His political persuasion is firmly to the left, and one gets the impression that he enjoys, or at least finds it necessary, to disclose this. "I have to be careful that students feel they've got the space to disagree and adopt a different position to whatever the position is I'm articulating at the time," he says, explaining that he'd had "some of the most interesting discussions and debates with students who have been on the right side of the political spectrum."
Constantly aware of the fact that students forget around 70% of the content within an hour of leaving the lecture theatre, Roper uses a broad range of media in his teaching. The music videos played at the beginning of his lectures (at full volume, of course) are carefully selected, including music hailing strictly from Aotearoa for New Zealand politics, and "punk and alternative music … where everything is on the verge of falling apart" for his Democracy paper. The latter has also been the topic for his latest book, published last year and already translated into three languages. Anachronistically, Roper insists on using the overhead projector "even though it's completely archaic, because I like to keep text separate from the computer interface."
Roper's love of music peppers the conversation, though he admits that due to "late breeding" he is no longer a "work hard and party hard" type of character. Gone are the days when he would go to gigs and stay out "very late," or, he says with a chuckle, "very early, depending on which way you look [at it]." Instead he gets his fix listening to Radio One and streaming independent US stations over the internet. The Phoenix Foundation is one of his favourite New Zealand bands.
When he's not keeping an ear out for new music, Roper is a self-proclaimed adrenaline junkie. He was a surfer for 30 years, even canvassing the renowned waves in Hawaii – "avalanches" of water, the friendliest of which can still result in hold-downs of 20 to 30 seconds. When applying for jobs (and ultimately landing in Dunedin), he only applied for those that were "no more than a 30-minute drive to the nearest surf break."
Despite the rush of it all, he considers surfing as being "really conducive to good mediation and productive thinking … you can think about things more clearly." Ominously noting that "if you don't respect the ocean, it will kill you," Roper describes near-drownings, the last of which, at his hometown of Aramoana in 2010, made him rethink this thrill-seeking venture. Despite the seriousness of these experiences, he maintains a sanguine outlook. He describes the conditions during a dramatic ocean encounter at St Clair in the early 1990s – the right swell direction, perfect wind conditions, full tide – resulting in an abnormally large wave. "There are particular waves you'll remember for your entire life."
While surfing has taken a backseat, whizzing around on his Honda ST 1300 has not. "I've discovered that adrenaline is a really powerful and addictive drug," Roper says. "It's helping me to experience the natural highs with a great degree of purity." As a spectator, Roper enjoys rugby league. But it's pretty clear that he thrives off an active lifestyle – along with his motorbike, he also has a pushbike he rides around town for convenience. "The reason I use the bike is parking, fitness, speed." And fast it is: "I can get to the Octagon in five minutes. I've timed it with my stopwatch."
Hilary Radner:
The Curious Cultural Observer and People Watcher
Talking with Hilary Radner is a captivating experience. Her areas of research and teaching touch upon cinema and visual culture, particularly the representations of gender and identity entwined within them. She has now been teaching for 25 years, and has been at Otago since 2002. "Some people come here because they're curious about the world. Some people come here because their parents told them it was the right thing to do. And some people come here because they're keen to find the tools that will enable them to make a life for themselves."
"I was always asking questions that probably I shouldn't ask," explains Radner. When getting a passport, she had to swear an oath of allegiance to the United States at the age of 10. Her response to her mother? "Well what does that mean? If there's a war I'm not sure I want to fight!" It's an amusing tale, but it also demonstrates her ability to question the norm from a very young age.
Radner's appreciation for films that she "loves to hate" is fascinating. In asking whether she could ever watch a film in a very distilled, removed way, she is politely adamant that "I am incapable of passively taking in a film." She encourages the "naïve pleasure" that comes from the "enthusiastic first viewing" of a film, all while stressing the importance of reflecting upon a movie. Though mystified by the premise of Pretty Woman, she is able to understand the film's timeless appeal, notably the "the dream of redemption, that we can always be forgiven, that we can start over." Cheekily, she adds to this "being a princess for a day … which in our culture I guess is having a credit card with basically no limit." Suddenly, I was presented with an incredibly perceptive insight into consumer culture. I wanted to know more.
I asked Radner if she thinks we lack choice in what we visually consume, given that we are constantly bombarded with so many images via so many media. "No, I think on the contrary," she explains. "I think we're very discriminating." When people elect to interact with these visual presentations there is a reason for this, she explains. Ultimately, what we choose to engage with ("choose" being the operative word) says something "significant about the culture."
In talking about the rise of competitive talent shows like the Idol franchise, Radner taps into even greater cultural pointers. "I think we feel very acutely today that we have to work really hard, we have to be very competitive, and then we also have to be lucky to achieve anything. We do want to believe that anyone can be successful, and we're not even sure what that means, either. I feel there's a great deal of anxiety about whether or not, among this generation, anyone will really be able to achieve what they want out of life." Recognising deep-rooted anxiety among a generation is one thing; getting to the issue from the likes of American Idol made it all the more intriguing.
Though born in Chicago, New Zealand is very much Radner's home, and she divides her time between both Dunedin and Central Otago. Most weeks Radner and her husband leave town on a Friday night to venture to their second home in Central Otago for the weekend. The serenity allows for life's simple pleasures: "watch the dog chase the rabbits, chat with friends, look at the sky. It's just beautiful there and there's so many wonderful walks you can go on."
She also enjoys a stroll around the DPAG or along George Street. One of her favourite pastimes is sitting in an outdoor cafe "anywhere in the world and people watching … I can tell you that whether you are in Nanjing, Paris or Los Angeles, the Converse sneaker dominates."