Sex toys can seem scary if you haven't used them. To help us get over this fear, our friends at Adult Toy Mega Store sent us a full box of various sex toys to review - plus we've got a few listed here that people already owned. The office took their picks of the toys, took them home and gave them a whirl. It was certainly a bonding moment.

Satisfyer Pro 2
You've probably been recommended the Satisfyer Pro 2 before, but is it really worth all the hype? The short answer is yes. The first time I ever used this thing, I shit you not, I came in like 20 seconds. And that was only on the third setting. This thing goes up to 11 using air waves (woo go science!) for clitoral stimulation. If you want to get the job done on your own with no hassles, the SP2 is the way to go. It's not ideal to use with a partner if you're wanting them to fuck you at the same time as it's quite clunky (although if you are wanting to get railed while using it, I have found doggy to be the best option). Truly the SP2 is the vibrator for a clitoris-haver who is on the go and really doesn't have the time to be horny. Oh yeah, there's also a model that looks like a lil penguin, so that's pretty cute!
Try this if you're studying: Law or Med
Listen to: SZA and Doja Cat
Rating: 69/69
Cost: $73.95

Satisfyer Wand-er Woman Wand
A body wand is the quintessential vibrator. It's the one that you see in movies and in porn, the "personal massager" that needs to be plugged into the wall in order to harness its full power. Thankfully mine is a Satisfyer-brand wand and is rechargeable rather than outlet bound. After having used it a couple of times I decided that this was not going to be a vibrator I used as often as the others. The intensity of this thing is earth shaking, and it covers the whole coochie. Again, the wand is probably better suited to solo play, but if someone wants to use it on you, the head of it is big enough that you'll have pretty good chances of them accidentally finding your clit. Also, this thing is hefty as, my arm got sore from trying to hold it in place for just five minutes. Whether or not a body wand becomes part of your regular sexplorations, I highly recommend keeping it at your bedside in case of an apocalypse situation because you could for sure knock a homie or two out with it.
Try this if you're studying: English
Listen to: Garage rock (just to really up the sensory experience)
Rating: 57/69
Cost: $69.95

Vishnu Blooming Glass Wand
Okay, listen. Everyone saw the freaky vampire sex in Twilight Breaking Dawn: Part 1 and wanted to know what Eddy Boy's ice peen felt like. After telling my flatmate that I was going to put an ice block in my cooch in order to have my Bella Swan moment, she gently nudged me to, instead, use a glass wand that had been put in the freezer for a little while. So I did. The cold glass is perfect for those who want to explore with temperature play, although it does warm up to body temperature eventually. The glass is also very smooth and super easy to keep clean! The shape and curve of the wand is also perfect for reaching the G spot and if you are prone to squirting, you might wanna put a towel down before you give it a go. Like most penetrative toys, if you require clitoral stimulation to cum, you'll need to use something alongside it, but oh boy does it make it a million times more intense. The glass wand also gives a different sensation than a standard dildo, and it's nice to change things up every now and then, don't you think?
Try this if you're studying: Fine Arts
Listen to: The Twilight soundtrack
Rating: 52/69
Cost: $56.95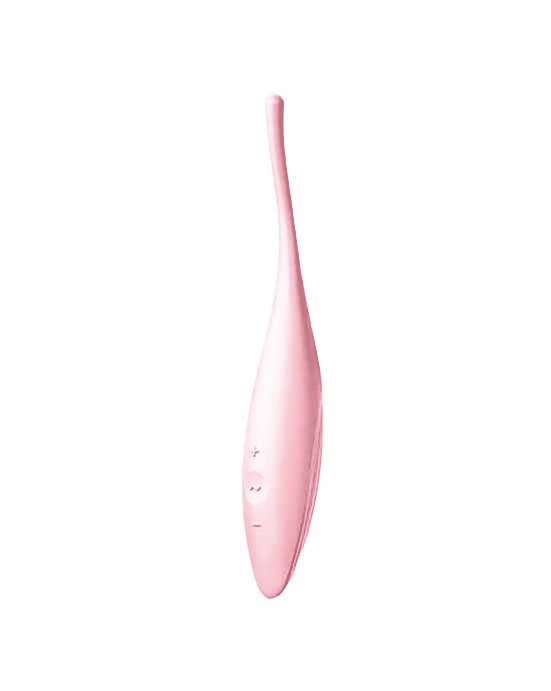 Satisfyer Twirling Joy Tip Vibrator
The Twirling Joy is also a Satisfyer product, so the first positive is that it uses the same charger as the SP2! So if you're like me and lost the charger, you can use the one from this to charge your other toys rather than borrowing your flatmate's charger (thanks bestie x). Twirling Joy makes use of ultra-cool technological advances and can be controlled through the Satisfyer app, so you can have someone else adjusting the vibrations as you use it (it also has the option for it to match the vibration to a song??). I'll be honest, this one isn't my favourite. I know it's super cool that it can be controlled by an app but I found the shape to be a wee bit awkward to hold, and because it has such a small tip it can be difficult to get (and hold) in the right spot. If you want to get fucked while youre using it, it is small enough that it won't really get in the way, but again, keeping it in place can be a challenge. The Twirling Joy is intense, but in the opposite way to the body wand. Because the tip is so small all of the vibration is very concentrated to one area, it can sometimes be a wee bit overwhelming, especially if this is your first experience with a vibe. Overall, it's cute and compact, and if you want the very focused stimulation then this is for sure going to be something to try.
Try this if you're studying: Politics
Listen to: Hyperpop
Rating: 45/69
Cost: $57.95
Share Satisfaction Classic Vibrator
The first thing you need to know about this one is that it's not rechargeable, so a flat trip to the warewhare to inconspicuously buy some AA batteries is going to be your first step to orgasm land. This vibe is, as the name would suggest, a classic; many a coochie's first sex toy experience. it's small enough that you can hide it (or not, live your best life babes x), but strong enough that it can get the job done. While it can absolutely be used internally, the hard material rather than a soft silicone could take some adjustment, especially if you're not used to the feel of toys. but when it comes to everything on the outside, it honestly packed more of a punch than i was expecting it to. While it can still be a bit fiddly trying to manoeuvre it (especially when your hand is also vibrating so much), it's fairly easy to figure out your groove and get your vibe (hehe) going. I would absolutely consider this a beginner vibrator, no bells and whistles, just a good old fashion way to banish the horny and continue about your day. The one thing I will say is that it didn't come with instructions, which led to me having to call in the flatmate with the brain cell to help me figure out how to turn it on because I was absolutely clueless. Overall it's not too bad. I wouldn't recommend it for those who perhaps already have a collection of toys, but if you want to dip your toes into wonderful world of sex toys, it won't disappoint.
Try this if you're studying: HSFY
Listen to: Classical
Rating: 27/69
Cost: $34.95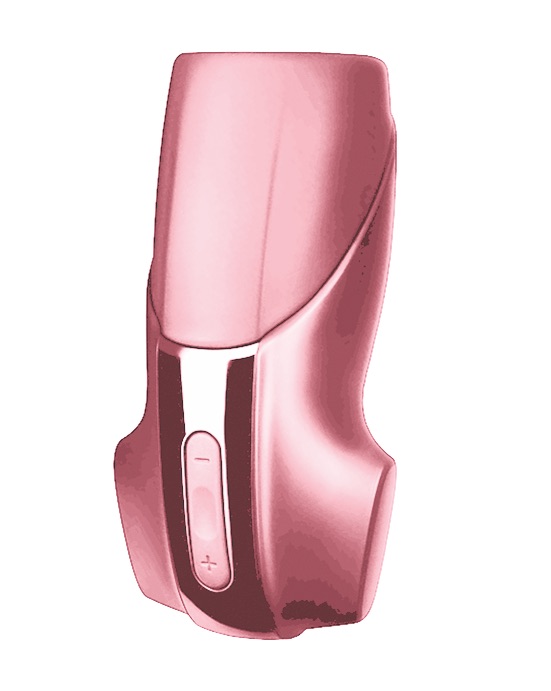 Satisfyer Men Vibration Masturbator
This one fell a bit short, I'm afraid. It started out promising: the toy was immediately perplexing, as it looks almost exactly like what would happen if a gaming mouse got knocked up by a fleshlight. So that was interesting right away. Confused by how to actually use the thing, I consulted ATMS's online video guide. The sleek, subtle design of the masturbator was really driven home by the stock photos of men in full business attire showing off the toy as if it were a new Blackberry, which really set the mood. Unfortunately, it was a bit more business than pleasure when it came to using the toy. It felt good, sure, but it didn't exactly get me off. I kept getting distracted and actually had to get myself hard again four separate times. I ended up finishing without the use of the toy, and to be honest, I felt a bit numb. Definitely the most I've worked for an orgasm in a long time. That doesn't mean it's not for everyone, though. There's, like, 14 different settings on this thing, some of which might be better than others. I'm definitely going to give it another go, but for now, it was probably more trouble than it was worth. I just figure, if you're gonna buy a sex toy, don't worry about getting something that looks incognito. It's a sex toy. Just buy a fleshlight, or something.
Try this if you're studying: Marketing
Listen to: Lone Digger by Caravan Palace
Rating: 22/69
Cost: $77.95

Share Satisfaction Gaia Remote-Controlled Couples Vibrator
This remote-controlled gem does its job, and it does it well. The 10 different settings allowed my partner to taunt me in 10 different ways, using its pulse function to have me on the edge of the bed. But we all know this wasn't built for the bedroom, no, this is for use in public. Unfortunately for readers, I did not have the guts to wear it out to Pint Night and instead opted for wearing it around the flat to start off. The only disadvantage is that it can slip out quite easily, so tight underwear is a must. For how much power this puts out, it is still incredibly quiet. Not quiet enough to be unnoticed if you're just chatting in the room but if there's a speaker going, so are you. I didn't cum from this vibrator because I got too excited and just wanted to be laid the good ol' fashioned way but I came about 20 seconds in, so it definitely elevated the evening.
Try this if you're studying: Human Relations
Listen to: Edge of Glory by Lady Gaga
Rating: 51/69
Cost: $51.95

Share Satisfaction Coco Suction Vibrator
Coco hits the spot, literally, and repetitively. It's waterproof, and has 10 suction modes with up and down buttons, so you can go from a walk in the park to a full-on 200m sprint and back again without having to cycle right through. The head was just large enough to fit nicely around my clit and then some, and while the suction wasn't immediately apparent, the vibration was robust and the suction increased with the higher settings. I fail to see how a mouth, a hand, or any other appendage would be able to do the job as well as this little gem. But while listening to a sexy British man reading me audio porn as I tested this, it became clear that using Coco in conjunction with some penetration would surely be a certified one-way ticket to O-town, with multiple stops. The highest three settings were intense in the best way, and had me posted up in my bed squirming exorcism-style. Hot. Small enough to tuck away in your bedside drawer with a cute little dust bag to put it in, it's discrete in size – but the vibration isn't the quietest. Not loud enough to wake up your flatmates, but you might be. Move over everyone, Coco is my new bestie.
Try this if you're studying: Psychology
Listen to: Overseer - Screw Up from the SSX3 soundtrack
Rating: 60/69
Cost: $69.95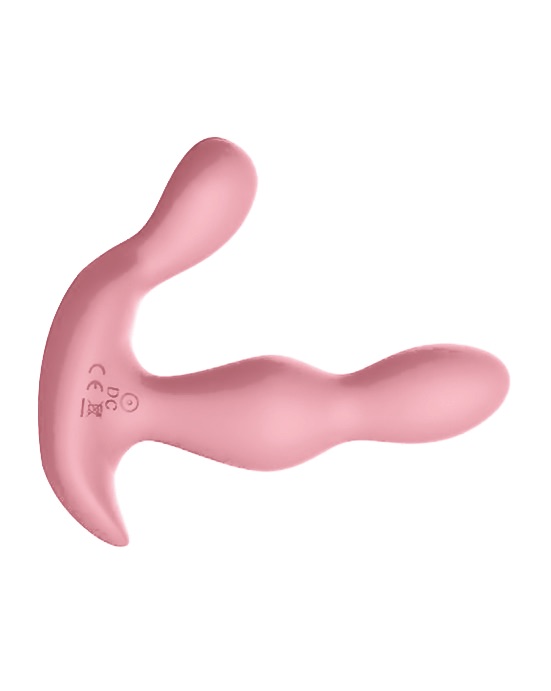 Wireless Remote-Controlled Prostate Vibrator
This one is a prostate-vibrator-cum-dildo that theoretically anyone can use, but especially fellow gays. On the box it came in (ok last cum pun I promise) the product is called The Richard, which I thought was funny because the only review for it on ATMS was by someone called Richard, who called it "toe curling". I don't think it hit my 'P-spot' but I honestly couldn't tell and didn't care. It felt like my entire body was vibrating. This is the only sex toy I've used on myself before but honestly, I've never came so fast. I didn't feel much difference between the intensity levels, but you can do a few different vibration patterns which is fun. The secondary vibrating thing at the other end didn't really reach anything, so was kinda useless, but if someone with a vagina used this I'd imagine it'd be great as extra clitoral stimulation. The biggest downside for me though, was that this toy (and the remote) are the exact same colour as my sheets, so I'm cursed to lose the remote every time I use it. Overall, it was the perfect size, a fun shape, and I'd definitely recommend it.
Try this if you're studying: Surveying
Listen to: Loyle Carner & Tom Misch
Rating: 64/69
Cost: $96.95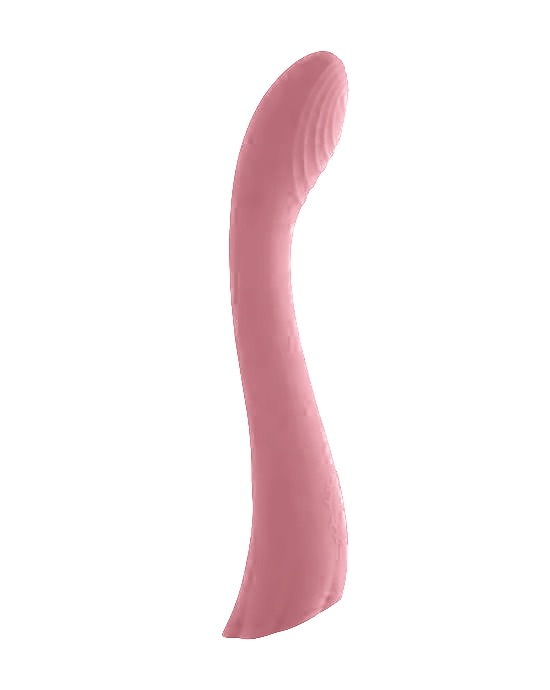 Share Satisfaction Arc Vibrator
If you like the colour blue (turquoise to be exact), Elsa from Frozen, and long, vaguely phallic-presenting, vaguely S-shaped schlongs, this may just be the vibrator for you. Was it the vibrator for me? To be absolutely frank, it was hard to tell. According to a bit of Googling, this vibrator is what you could call a type of "G-spot targeting" vibrator. The curve of the toy aids in this regard. However, it took a bit of fumbling to actually reach a somewhat pleasurable point. Whether or not that's down to my lack of self-awareness in the correct usage of a G-spot toy, or the capabilities of the toy itself, I'm not sure. I'm either unpracticed, or lacking in nerves or something.
In the end, I actually preferred using it on my clit to being penetrated. So it can go two ways. If you do decide to buy this, be aware that you will need to charge it for about 4-6 hours before use. To charge the Arc, you need to find a small circle in the back, with a dot indented in the middle. The process isn't very intuitive, as putting the charger through that minuscule indent felt like I was puncturing the toy, requiring a little force. Lastly, the toy itself has a name, Elsa, so if for some reason Frozen turns you on (maybe you have a weird kink where Let It Go makes you really horny??) this is definitely the toy for you.
Try this if you're studying: Biology, because hey, if you're a biologist, maybe you'll actually know how to find your own goddamn G-spot.
Listen to: Livin' Loose by George Clanton.
Rating: 34.5/69 results may vary.
Cost: $79.95
Brought to you by Adult Toy Megastore and the Officials at the Department of Cumservation.