Posted 1:43pm Monday 16th August 2021 by Molly Willis
Why buy new? was the motto in our house when I was growing up. Whether it was inheriting my cousin's old pair of ski pants, a bag of clothing from that lady at mum's work's eldest daughter, or Sunday shopping for vintage homeware at the Crow's Nest (the best junk shop Read more...
Posted 1:18am Sunday 14th March 2021 by Asia Martusia King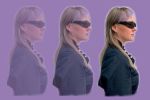 Mullets have a long history. The world's first mullet was depicted on a metal deity figurine unearthed in an English car park, dating back to 1st-century AD (After Drip). Roman warriors with mullets were engineered for battle, their hair styled out of their eyes and difficult to grab. Murder Read more...
Showing results 1 - 2 of 2
TAGGED ITEMS
Showing items with the tag:
style