Posted 3:19pm Sunday 25th July 2021 by Fox Meyer
Remote PhD students will not be receiving a stipend from the University, even with a scholarship. 89 students have commenced their PhD at Otago remotely since the pandemic began. 13 have managed to enter New Zealand, and only seven of those students will be receiving a monthly stipend, according Read more...
Posted 4:09pm Sunday 30th May 2021 by Fox Meyer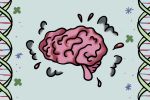 A study released last week surveyed 4,499 Kiwi students to see if their mental health got worse when they worked on their PhDs. The data said: no, their mental health was not affected. "You've gotta be fuckin' kidding me, right?" asked Dan, a fourth-year. "Is that Read more...
Showing results 1 - 2 of 2
TAGGED ITEMS
Showing items with the tag:
phd