Posted 1:15pm Saturday 14th May 2022 by Fox Meyer
You don't have to like Taylor Swift, but it's weird how vehemently some dudes will hate, hate, HATE Taylor Swift. Almost like they need you to know how much they hate her because otherwise they're not a man, or something. It's weird, and it's super toxic. I Read more...
Posted 2:29am Sunday 8th May 2022 by Fox Meyer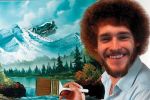 Someone once told me that art is like porn: you know it when you see it. And I think that's true. Of course, art is subjective. You might not like it, even if other people do. Most of our art comes from our art team, and quite a bit of it comes from student submissions, who want to Read more...
Posted 12:24am Saturday 23rd April 2022 by Fox Meyer
Good Friday is the most confusing day of the year. First of all, there's the name: if I was murdered, resurrected, and then deified, and I came back 2,000 years later to see people celebrating my sacrifice, I'd be stoked. I'd be like "Oh that's mean, so glad Read more...
Posted 1:23am Saturday 9th April 2022 by Fox Meyer
If you're trying to learn English, good fuckin' luck, because "GHOTI" is pronounced "fish" (touGH, wOmen, acTIon). English is a bizarre and wonderful language, and I am so, so glad that I was born into it rather than having to learn it as an adult. Of all Read more...
Posted 5:37pm Friday 1st April 2022 by Fox Meyer
Human brains are not designed to sit at a desk and memorise content for hours on end, they're built to remember stories. When we stop thinking in terms of stories, we're setting ourselves up for failure. This is especially poignant in the grown-up sciences, which have traditionally felt Read more...
Posted 5:05pm Sunday 27th March 2022 by Fox Meyer
The United States has this plane called the Dragon Lady. The U-2, like the band. It's a spyplane, originally from the Cold War era. There's a camera on the bottom of this thing, a big glass ball that sticks out. From the stratosphere, it can tell if you're holding a can of Coke or Read more...
Posted 1:14pm Sunday 20th March 2022 by Mary Jane
I wake up. The radio station in my head is already blaring. Too many glockies. Too many fucking glockieeees! This song has been in my head for the last 36 hours. Oh shit, I'm hungover. I'm anxious. The podcasters who run my internal monologue are arguing again. You've got Read more...
Posted 4:54pm Saturday 12th March 2022 by Fox Meyer
The porcelain throne, like any monarchy, is outdated. It's an invention that was brought into the mainstream in a time of unprecedented wealth and prosperity. It was a groundbreaking innovation, one that brought sanitation into the homes of millions. But we can do better. Every time you Read more...
Posted 1:06pm Sunday 6th March 2022 by Fox Meyer
Helluva week, huh? We've got a war, we've got a scary new climate report, and we've got the shitstorm that blew through parliament grounds on Wednesday. This whole issue of Critic has a bit of a calamitous fog hanging over it, which you can probably tell from the cover. I guess Read more...
Posted 2:27pm Sunday 27th February 2022 by Fox Meyer
There is no student bar this year. That's a first for Dunedin, as far as I can tell. See, student bars are like whales. In the mid 1800's, Pākehā settlers set up shop on the peninsula and hunted migrant whales by the boatload until they learned to avoid Dunedin. By the Read more...
Showing results 1 - 10 of 101

Previous Results
Next Results

TAGGED ITEMS
Showing items with the tag:
editorial