Posted 12:27am Sunday 7th March 2021
If you've ever been a student searching for a job, you've definitely heard of Student Job Search (SJS). If you're funded by a Daddy and have never been on that job search grind, SJS is a charity, underwritten by MSD and the student unions, that hooks students up with job Read more...
Posted 3:58pm Tuesday 2nd March 2021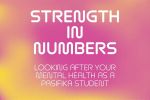 I remember walking in to Student Health as a fresher many moons ago, feeling crook as fuck in all ways possible, just needing some help. I looked around for a brown face or name. There were none in sight. My name, pronounced incorrectly, was called out by the Caucasian doctor, summoning me to their Read more...
Showing results 21 - 22 of 22

Previous Results
Next Results

Susana Jones
Staff Writer