Posted 1:10pm Sunday 28th May 2017
Above image: Freefall, exhibition installation view, featuring Colin McCahon, The Wake, 1958; Ralph Hotere, And ye shall dwell in the land I gave your fathers and ye shall be my people and I will be your God. Ezekiel, 36. 28, 1983, image reproduction by permission of the Hotere Read more...
Posted 12:59pm Sunday 21st May 2017
Cold weather getting you down? Check out these hidden gems around campus for some art and culture to warm you right up. De Beer Gallery Special Collections For our first pick you don't even have to leave the library! Head on over to Special Collections on the first floor, Read more...
Posted 1:01pm Sunday 14th May 2017
With books on the brain following the annual Dunedin Writers & Readers Festival, writing about illustration seemed a logical choice this week. These five contemporary artists each take the concept of illustrating for children in completely different directions, showing that the picture book page Read more...
Posted 2:32pm Sunday 7th May 2017
Explosions seem to be a bit of a theme at the Dunedin Public Art Gallery at the moment, with Exploded Worlds dominating the ground floor and Untitled (Exploded View) now showing upstairs. While the word seems to connote some degree of chaos, the latter of these two exhibitions is instead built on Read more...
Posted 12:56pm Sunday 30th April 2017
Currently tucked away in the Dunedin Public Art Gallery is a small room exploding with rainbow colours and slightly disturbing human bodies in a kaleidoscope of unapologetic vibrancy. This is The Bloggs by Nicola Jackson, simultaneously Frida Kahlo-style living room and anatomical exploration, and Read more...
Posted 1:53pm Sunday 23rd April 2017
Here in Dunedin we're pretty darn lucky. We've got an abundance of stunning wildlife perched right on our doorstep - the albatrosses, seals and penguins on the coast, the botanic gardens right by campus, and gorgeous countryside only a short drive away. The native birdlife is something Read more...
Posted 12:33pm Sunday 9th April 2017
Beautiful, elegant, and led by a strong sense of purpose, Daniel Belton's performance piece AXIS — anatomy of space intrigued and inspired audiences at its Otago Museum premiere. In refusing to align with one medium alone, AXIS combines dance with fashion design, celestial cartography, Read more...
Posted 1:40pm Sunday 26th March 2017
If you're new to art history and can't tell your Rembrandts from your Renoirs or your Monets from your Manets — no stress, it's all good. But you'd probably benefit from learning the name Frances Hodgkins, who was one of our country's most famous artists and a Read more...
Posted 2:23pm Sunday 19th March 2017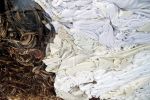 Making my way downtown, walking fast, faces pass and I—glimpse what seems to be the nest of a giant bird? Currently on display on Moray Place is A nest in town by Motoko Watanabe; a mass of crumpled folded sheets and dense brown foliage packed behind the rear window of the Dunedin Public Art Read more...
Posted 2:19pm Sunday 12th March 2017
Flavia Rose is an emerging artist and creative raised in Dunedin and based in Wellington. She sat down with Critic's Art Editor, Monique Hodgkinson, for ten quick questions about all things whimsical and lovely. Describe your artistic style in three words. Delicate, whimsical, Read more...
Showing results 1 - 10 of 28

Previous Results
Next Results

Monique Hodgkinson
Art Editor