Posted 9:16pm Sunday 10th August 2014
The installation of gender-neutral bathrooms around campus may be on the cards for the University, after a recent study by OUSA. Of the 1,357 students who participated in OUSA's study, 43 students reported feeling uncomfortable using the current gender segregated facilities. In a recent Read more...
Posted 9:43pm Sunday 3rd August 2014
The University of Otago Women's Senior Rowing Eight have much to celebrate following the International Universities Regatta in China, winning all three regattas of the series. "The wins here in China are huge for this crew and Otago University Rowing," says Otago University Rowing Club Read more...
Posted 9:43pm Sunday 3rd August 2014
Dr Robert Thompson from the Department of Mathematics and Statistics may not look like a magician, but his research on the concept of invisibility "cloaking" sounds like something straight out of Hogwarts. The postdoctoral research fellow, who began his research at the University of Otago in Read more...
Posted 10:15pm Sunday 27th July 2014
The Government has refused to assist the University of Otago with its $650 million building programme. The University will now have to fund the entirety of the proposed renovations itself, including an extension of the dental school programme. Tertiary Education Minister Steven Joyce told the Read more...
Posted 5:12pm Sunday 20th July 2014
2014 is the second year OUSA has held the Landlord Awards, previously named the Best/Worst Flat Awards. The change in name is intended to "place pressure on landlords to provide quality rental accommodation," whilst also "showcasing landlords who do a great job in promoting student wellbeing," says Read more...
Posted 2:07pm Sunday 25th May 2014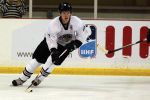 Talented Ice Hockey player Luke Pickering was among the eight talented students selected in the first round of Individual OUSA Grants this year. OUSA have awarded 45 Individual and Club Grants so far this year, and have completed two out of six rounds of grants. Pickering used his $500 grant Read more...
Posted 4:32pm Sunday 18th May 2014
The University Volunteer Centre has established a regular stall at OUSA Market Days, according to a report by Vice-Chancellor Harlene Hayne at the latest University Council meeting on 13 May. The stall hopes to promote UniCrew, a staff and student volunteer organisation, alongside various other Read more...
Posted 3:11pm Sunday 11th May 2014
Accommodation for postgraduate students is set to increase after the University purchased a property neighbouring Abbey College in order to increase the College's capacity. 55 Duke Street backs on to the College and was purchased by the University for $550,000 to be used as housing for College Head Read more...
Posted 3:11pm Sunday 11th May 2014
Dunedin is quickly becoming a concrete canvas for internationally renowned street artists. Globe-trotting English street artist Phlegm is one of the latest to embrace Dunedin streets as a canvas for his unique brand of "visually stunning, playful and transformative" art, according to DCC Community Read more...
Posted 4:20pm Sunday 4th May 2014
The number of international student enrolments at the University has dropped by 3.7 per cent, according to numbers released at the most recent University Council meeting. The figures reveal a drop to 1191 full-time international students enrolled in the University, down from 2011's peak at 1664, and Read more...
Showing results 11 - 20 of 29