Posted 5:30pm Sunday 23rd March 2014
Is it just me, or do all our public holidays blow massive elephant cock? (Seriously, Google elephant penis. Itís funny). Letís take our national holiday: now, I donít want to get into a deliriously redneck style here, but Waitangi Day makes me want to stab people. Thereís no public thing to do on Read more...
Posted 2:59pm Sunday 16th March 2014
If thereís one thing any red-blooded Kiwi male absolutely pisses his pants about, itís the prospect of a diplomatic dispute being resolved by horrific violence. Now through the magic of Old Media; I am coming to you from two weeks in the past, so itís entirely possible that by now Read more...
Posted 4:44pm Sunday 2nd March 2014
Comrades, at the time this article was written, Ellen Page (best known for her role as an irritating prego-hipster) had recently burst forth from the closet in a cloud of rainbows, glitter and k. d. lang records. Oh, good for her; I know a thing or two about being locked in a small enclosed space Read more...
Posted 6:57pm Sunday 23rd February 2014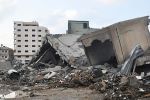 A friend of mine was recently employed to be a man in a gorilla suit. Heís supposed to be encouraging the fine people of Dunedin (not to mention the multitude of raving lunatics who wander the streets curiously free of straight jackets) to ďGet Active!Ē with all the irritating enthusiasm of a Read more...
Posted 5:59pm Sunday 7th October 2012
Iíve never voted in the OUSA elections before, I didnít vote in the last one, and I am not alone. ďWhy?Ē you ask. ďWhat about democracy and studentsí rights and StudyLink and our ability to freely write chalk messages on the asphalt?Ē I donít know what the answer is. Perhaps itís because I like to Read more...
Showing results 1 - 5 of 5