Posted 2:29pm Sunday 11th August 2013
Like it or not, hacktivism is the political movement of our time. The movement's technological savvy, libertarian outlook and mischievous methods are inspiring an otherwise apolitical generation. But where does the movement come from, and is its vision a sound one? It Began With a WANKIn Read more...
Posted 4:45pm Sunday 28th July 2013
Film festivals always churn out some black sheep. However, few have been as eagerly anticipated and controversial as this year's Thomas, a live-action adaptation of Thomas the Tank Engine directed by Darren Aronofsky. The film has bitterly divided critics: while some have hailed it as "surprisingly Read more...
Posted 5:13pm Sunday 21st April 2013
Pre-film trailers are typically selected to appeal to the same audience as the film itself. When I arrived at the cinema to see Barbara, knowing nothing about it, the first trailer I was shown was about an old person being chosen to cook for the President of France. The trailer was very long, and Read more...
Posted 4:40pm Sunday 7th April 2013
Russ Meyer really liked boobs. His favourite Hollywood actress was Dolly Parton, he described 39DD-toting Anita Ekberg as "the most beautiful woman I ever photographed," he had a penchant for casting women in their first trimester of pregnancy (gross), and his two favourite expressions were Read more...
Posted 5:18pm Sunday 3rd March 2013
I had a real problem with this film, more so than any other crime film I've seen. The tagline for The Sweeney is "act like a criminal to catch a criminal." It's not the moral ambiguity of that I have a problem with. Hell, all movies should be morally ambiguous up to a point, especially those in Read more...
Posted 5:13pm Sunday 8th July 2012
Ridley Scott directed the very first Alien film way back in 1979. Thirty-three years on, the franchise really needed him back. After six installments, each slightly but noticeably worse than the last, most fans probably expected the seventh to be Alien vs. Dead Horse. What we get is more like 2001: Read more...
Posted 8:39pm Sunday 3rd June 2012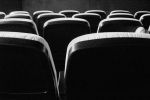 Director: Ed Wood Plan 9 from Outer Space is one of the most celebrated science fiction films of all time. Changing tack from the serious social commentary of his previous films Glen or Glenda and Bride of the Atom, legendary director Ed Wood combined slapstick with themes of existentialism, Read more...
Posted 7:58pm Sunday 20th May 2012
Director: Terrence Malick I do not write this piece as a Terrence Malick fan. In fact I find his films insufferably pretentious: The "profound" voiceovers delivered invariably by a murmur, a child, or a murmuring child; the randomly-interspersed Beautiful Shots Of Nature (which for all we Read more...
Posted 4:56pm Sunday 29th April 2012
Director: Martin Scorcese Released: 1993 The Age of Innocence hit me like no other film ever has. My heart was racing for the majority of its 138 minutes; after it finished I paced the room trying to calm down, shaking the tingles from my fingers. It's the only film to ever make me, Mr Read more...
Showing results 1 - 9 of 9
Kathleen Hanna
Contributor