We spoke to three students and graduates of the University of Otago who shared their experiences of iD Fashion Week — what they did, who they met and the opportunities it continues to bring them. iD Fashion Week is an annual fashion event that celebrates Dunedin's distinctive design aesthetic and encourages the designers who contribute to the fashion industry's future.
Once a year Dunedin's unique fashion aesthetic is celebrated by people from all over the world at iD Dunedin Fashion Week. People from within the fashion industry host an array of events with international guests and New Zealand designers, who come together to present shows, exhibitions, lectures and more.
Without the help of students, it would be difficult to run this event. iD allows students to engage with the industry, exhibiting their work and networking with some of the fashion industry's most gifted. Dr Margo Barton, Academic Leader and Principal Lecturer in fashion at the Otago Polytechnic School of Design, strongly supports student participation in the event: "iD Dunedin is so very important to the ongoing education of all involved in the wider fashion industry in Dunedin, especially the students, graduates and staff of fashion at the School of Design, Otago Polytechnic." Graduates Marc Jun, Jess Gleeson and Tommy Spence are just some of the young talent that has emerged from iD.
Marc Jun
Marc Jun is a 27-year-old Otago Polytechnic fashion design graduate from South Korea. He has a diploma in business and his 2014 graduate collection will be shown at iD's 2015 Railway Show.
What inspired your 2015 Railway Show collection?
Family, love, I wanted to visualise the invisibility of love within a family. I have incorporated the quality of compassion into my designs through men's suit tailoring. This inspiration came from the problems deeply rooted in our contemporary working society in Asia. It shows compassion for the men who are usually associated with being the head of the household. They sacrifice their lives working busy hours and often missing out on family time. This is a reflection of my own background and is part of family life where I grew up in Korea.
What are you most looking forward to about this year's iD Dunedin Fashion Week?
Firstly I am looking forward to meeting the new designers and seeing their designs. I also want to make sure that I do a better walk at the show because I was so shy on the catwalk last year.
What opportunities has iD provided for you?
iD allowed me to meet new people, see new design and show my design. Meeting these people pushed me to work harder on my graduate collection. While working backstage in my second year of fashion at the polytechnic I dressed for emerging designer, Byung Mun Seo. I found one of his garments, especially the pattern, particularly interesting. After this he became a great fashion mentor and asked me to work for him at his trade shows in Milan and Paris.
How does iD differ from other shows that you have worked at?
I have worked in the fashion trade shows over in Europe; White in Milan and the Tranoi show in Paris. They were more focused on the relationship between buyers and designers, so it was a totally different experience. The trade show almost represents what happens after a catwalk show. It is only open to buyers, so not many people are viewing the garments. iD, on the other hand, is primarily a fashion-based catwalk show that gives us designers a great chance to show our polished work.
What about iD keeps you coming back every year?
This is my fifth time being involved in iD in the last four years. I was inspired by iD designers, and this year it is my role to inspire others.
What advice would you give to other designers?
I would say involve yourself as much as you can with other designers because you never know how the relationship and connection will build up. Also, look at other designers' work to push your design boundaries further; challenge yourself and create your own originality.
Jessica
Gleeson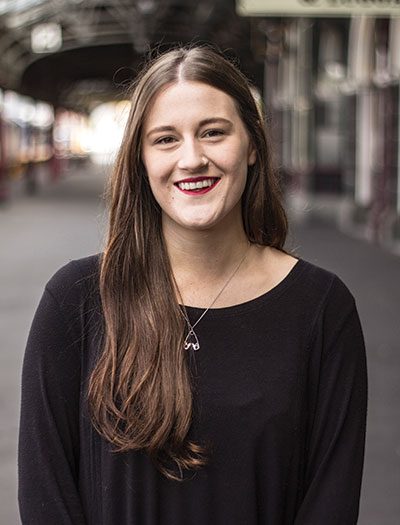 Jessica Gleeson is a 22-year-old Otago Polytechnic fashion design graduate currently working on her graduate diploma in marketing management at the University of Otago. She works as the Awards Finalist Liaison at iD Dunedin Fashion Week alongside her position as Customer Care & Online Store Assistant at local designer boutique, Belle Bird.
What does your position in iD require?
I'm the contact point for the 30 emerging finalists; I guide them through judging day and the emerging show, while also assisting Margo and the polytech team to make sure these events run smoothly backstage. Then, after the show, I deal with the winners and liaise with the art gallery about the exhibition put on there.
How did you come about getting your position within iD?
In the third year of my fashion degree, I was Margo Barton's backstage assistant for iD; from this I was then put forward for my current position.
What are you aiming for after this year?
I have never wanted to be a designer — it's something that never interested me. With my DipGrad, I'm aiming to work towards getting more into the PR side of the industry.
Who was the most influential person you have met through iD?
Wow, there have been so many over the years. I've gotten a bit more confident with approaching the guest designers, but I can still remember being in awe sitting in Zandra Rhodes' lecture when I was first-year — she was so amazing. But I must say, last year I did lint-roll Mike McRoberts' butt and I will never forget it.
Whose collections are you looking forward to seeing?
I'm super excited to see Kelsi Bennett's collection up on the catwalk, also Emily Giles and Monique Duggan's collections have really stood out for me so far!
Jessica Gleeson Tumblr:
http://opening-hours.tumblr.com/
Tommy Spence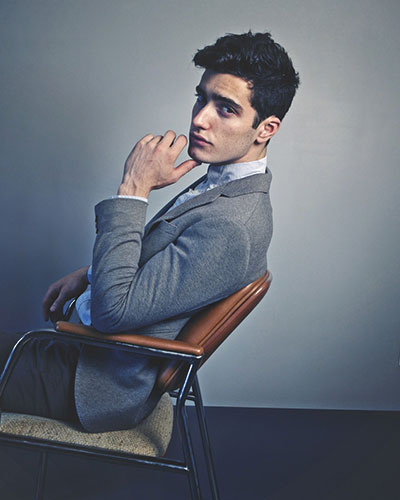 Tommy Spence is a 21-year-old international model and zoology student at Otago. He grew up on a small farm on the Taieri plains. Tommy has spent the last eight months living between New York and Milan and is back in Dunedin for the year to finish his degree. After he graduates he plans to head back to New York to pick up the modelling where he left off.
When was your first time modelling for iD Fashion Week?
My first time walking in iD was five years ago; it was a big deal for me at the time — I believed it to be the pinnacle of fashion events. I would have been 16, and I have walked it every year since.
What advice would you give to others interested in modelling?
If you're interested in modelling go to an Ali McD modelling course; you will learn all the basics of modelling and get some photos done. I was forced along to one when I was 14 by my mother and aunty as they thought it would be good for an all-boys school pupil to do. It seems they had the foresight to see the humour it would provide for them.
How does iD differ from other shows you've worked in?
I have walked in New York Fashion Week for two consecutive seasons and Milan Fashion Week for one season. International fashion weeks are about showcasing each designer's new concepts and defining trends in each season. There are swarms of media backstage, on-going interviews, celebrities; there is a huge amount at stake and stress levels are high as they have to deal with all the media, bloggers and bullshit. It's a big deal; it's their business!
In contrast, iD is not so much the launch of all the designers' collections but a platform for which they can all come together once a year for a community highlight event. The event is not about money and celebrities but more about community and entertainment. Anyone can attend, and the size of Dunedin means that most people who do go have some sort of connection with the show itself, whether they are the models' mothers or friends of the designers or even just have a wardrobe stuffed full of Nom*d.
Who has been your favourite designer to model for at iD?
There have been some amazing designers over the past five years that I have been involved, both local and international. My favourite designer to walk for would have to be the celebrity milliner, Steven Jones. Dubbed by Italian Vogue as the maker of "the most beautiful hats in the world" he really stood out to me as something new and interesting for the Dunedin locals to experience. I was fitted with a Nom*d coat and a flamboyantly styled Native American Indian headdress.
What are you most looking forward to about modelling for this year's iD?
This year I'm looking forward to seeing iD through different eyes. I have been away for a solid eight months and have had an incredibly powerful experience abroad. I have worked for some amazing designers and labels, lived in major fashion capitals and have seen how the industry works. I can't pin exactly what I'm looking forward to as modelling really is just extended periods of waiting around, but it will be interesting for me to return to my fashion roots of iD Fashion Week. It's humbling.
Instagram: tomspence
For more information on the events and faces of iD Fashion Week 2015, head to www.iDfashion.co.nz