Posted 9:12am Sunday 10th October 2021 by Erin Gourley
"My life involves lots of different worlds," says Melissa Lama. "There's the Pacific community, I'm a mum, there's student politics, and I study. I do it to myself but I wouldn't change it, it's who I am." Melissa is your 2022 OUSA President. Read more...
Posted 3:00pm Thursday 21st November 2013 by Zane Pocock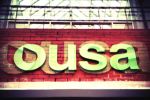 The OUSA Executive yesterday confronted a breach of the OUSA Constitution by three of the four delegates sent to Wellington to cast OUSA's votes in the 2014 NZUSA (New Zealand Union of Students' Associations) election. The offending delegates voted contrary to a motion carried during Read more...
Showing results 1 - 2 of 2
TAGGED ITEMS
Showing items with the tag:
president