Posted 5:02pm Sunday 30th May 2021 by Alex Leckie-Zaharic
Last week Critic wrote about OUSA's submission on the Government's new policy around tertiary students, and the gist was that while they liked the vibe, they didn't like the details. The Uni seem to agree, saying that the Code is "eminently sensible" but also has a lot Read more...
Posted 11:34pm Sunday 23rd May 2021 by Alex Leckie-Zaharic
OUSA has submitted in support of the proposed Education (Pastoral Care of Tertiary and International Students) Code of Practice 2021, but proposed several changes to the wording of the policy. "OUSA considers the implementation of the Code as necessary, especially in addressing spaces Read more...
Posted 11:41pm Sunday 23rd May 2021 by Fox Meyer
As you may have noticed, there was a distinct lack of tutus worn by the Selwyn Ballet performers at this year's capping show. Luke McLelland, Warden of Selwyn, said that OUSA told Selwyn that they got feedback from last years show indicating that people didn't really vibe with Read more...
Posted 11:43pm Sunday 23rd May 2021 by Fox Meyer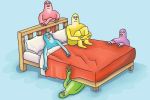 Subwardens now have official representation on a committee and can approach OUSA more easily with their issues. Subwarden means RA. RA means Residential Assistant. Residential Assistant means friendly, not friend. OUSA President Michaela Waite-Harvey said that subwardens are "a good liaison Read more...
Posted 3:53pm Sunday 16th May 2021 by Erin Gourley
OUSA are paying some fancy businesspeople to help them make commercial decisions on a newly created Advisory Board. The Board will meet bimonthly with OUSA to discuss commercial decisions and the direction of OUSA, as well as keeping in regular contact with the Exec and the CEO. There will be up Read more...
Posted 4:08pm Sunday 16th May 2021 by Sean Gourley
In an attempt to send student engagement to an all-time low, OUSA has set their semesterly referendum questions to the most boring issues possible. There are only three engaging questions from the total ten questions provided. They are: "8. Should the University have the power to Read more...
Posted 2:50pm Sunday 9th May 2021 by Fox Meyer
OUSA pointed out a fuckton of problems with the proposed changes to the Code of Conduct in a 20-page submission to the University. The Uni is updating its Code of Conduct and received public submissions on the proposal until 7 May. The very first thing that the Exec said in their submission Read more...
Posted 2:38pm Sunday 9th May 2021 by Fox Meyer
Sign Up Club's 30 April OUSA SGM ended not with a bang, but a fizzle. The only motion to pass was an increase in pay for ex-officio positions at OUSA. This raised the pay for the Te Roopū Māori Tumuaki Karamea Pēwhairangi and Pasifika Students Association's President Read more...
Posted 4:13pm Sunday 2nd May 2021 by Denzel Chung
Around 500 people of all ages attended OUSA's ANZAC Day service, the first to be held on campus since 2019. Held in conjunction with Te Roopū Māori and the University, the service was held in the Main Common Room, but attendee numbers meant the crowd ended up overflowing out Read more...
Posted 4:39pm Sunday 2nd May 2021 by Fox Meyer
The DCC's draft for their 2021–2031 plan is underway, and OUSA want the DCC to significantly change it. After listening to what students said, OUSA told the city council to do something. Their suggestions are 15 pages long, and worded in impenetrable bureaucrat-speak. It's not Read more...
Showing results 1 - 10 of 114

Previous Results
Next Results

TAGGED ITEMS
Showing items with the tag:
ousa